We SC what you did there, Mikey: Dell emits top-end array, hyper-converged boxes
Days after EMC bid with its overlapping products
---
Dell has launched a flagship SC9000 Compellent array plus a more powerful XC hyper-converged system. It comes just days after Michael Dell launched a bid to buy EMC, which involves overlapping VNX array and ScaleIO hyper-converged products.
The SC9000 is the fourth product in the dual-controller, Fiber Channel-accessed SC range:
The SC series of products are simply positioned against the Dell PS (EqualLogic) arrays by their iSCSI-access focus. SCs can be federated to provide a scale-out capability, with a heterogeneous mix of SC models.
The SC9000 is a boosted controller version of the SC8000 with back-end connectivity upgraded from 6Gbit/s SAS to 12Gbit/s.
The processor changes from dual 6-cores per controller to dual 8-cores, while memory is quadrupled from 128GB per controller pair to 512GB. Consequently, performance is accelerated with a claimed 40 per cent more IOPS, 385,000 at less than 1msecs latency.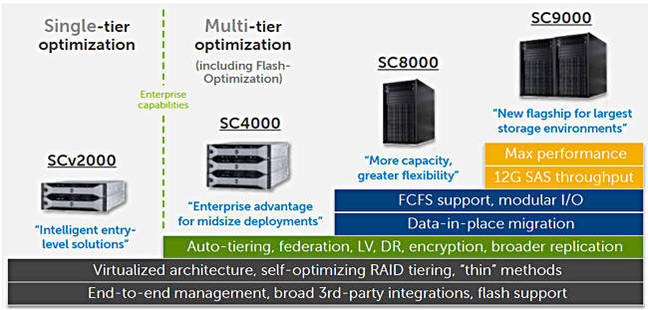 Dell SC range marketing slide
The drive side is pretty similar between the SC8000 and SC9000, with a max of 960 drives, but backend connectivity changes up to 12Gbit/s SAS from 6Gbit/s SAS and 8Gbit/s Fiber Channel. This, Dell says, doubles throughput.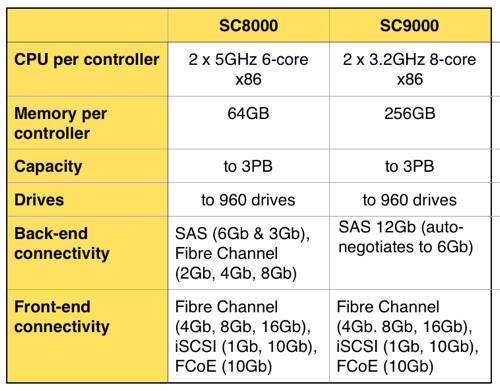 SC8000 and SC9000 comparison points
SCOS 6.7 upgrade
The SC's operating system is revved to v6.7 and that provides:
Live Volume with auto-failover – built-in DR/business continuity and zero downtime in unplanned outages; VMware stretch cluster support.
Enhanced compression – save up to 93 per cent flash capacity on SQL.
Thin Import from PS Series – easy migration for EqualLogic customers.
Application Protection Manager for Oracle – restore host data from array with app-consistent snapshots.
Software Suite for IBM-AIX – "VIOS Recognized," enhanced availability.
Azure Site Recovery – support for Microsoft's cloud infrastructure platform.
SSD SED support – Data-at-rest encryption available on flash.
The compression algorithms have been revised, Dell says, to work well with hybrid flash-disk array configurations, and best-in-class with all-flash configurations. Capacity reduction through compression varies with use cases. Dell suggests up to 42.5 per cent with VMware, 93.6 per cent with Microsoft SQL, 39.9 per cent with Hyper-V, and 40.9 per cent with ESXi virtual machines.
The PS import provides, perhaps, a hint of Dell's array focus in the next few years. This SC9000 provides a useful bump up in performance and availability and, were it not for the EMC bid, would be welcomed unreservedly by Dell's customers and channel.
But, might as well face up to it, that bid casts a shadow over the SC9000.
SC preservation letter
For customers concerned with potential replacement of the SC arrays by EMC's VNX line, there is a letter from Michael Dell to customers in the deal's SEC filings which refers directly to the SC storage line.
It says: "Dell has the most comprehensive storage lineup in our history, and we will continue to both enhance and support all our storage and enterprise offerings. We are committed to ensuring that you get long-term returns from your investments in Dell and that you have a clear path forward to new technologies, much like we are doing with the Dell SC Series."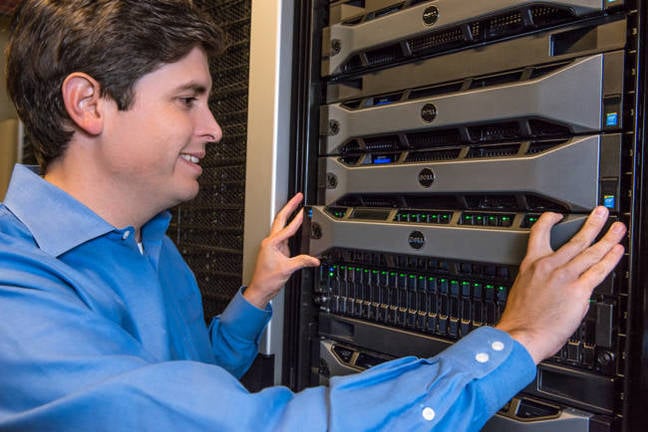 SC9000 with pleased as punch Dell storage exec director Travis Vigil. The SC lives on!
That's unequivocal. Dell will continue to enhance and support all its storage offerings. That does not mean though, that it will end-of-life EMC's VNX array or that VNX may not receive more focus than the SC series, or, indeed, the reverse. It does mean, however, that the SC array product will continue being developed, sold, and supported over the long-term; at least at a basic level and hopefully better.
Dell's go-faster XC
Dell has hypered its hyper-converged XC appliance by doubling both the performance and capacity of this Nutanix software-running box.
The latest XC6320 has a 2U, 4 x server node form factor, using Dell's C6320 server. It tops a range starting with the XC430 (1U, 1-node), and running up through the X630 (1U, 1 node but more powerful), and XC730 (2U, 1 node).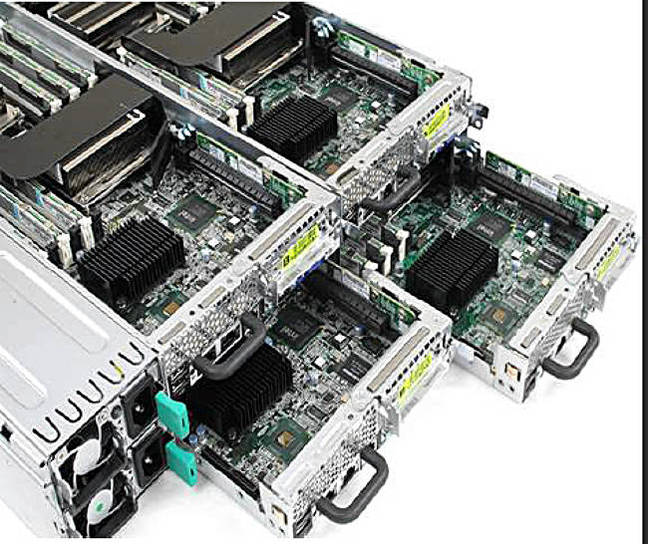 Dell XC6320
Performance and storage capacity can vary widely. The 6320 features a broad range of dual Xeon CPUs; from E5-2620 v3 to E5-2630 v3, E5-2650 v3, E5-2660 v3, E5-2680 v3, E5-2695 v3, and E5-2697 v3.
It has 64-512GB of memory and a hybrid 6 x 2.5-inch drive set-up with 4 x 1TB or 2TB disks and 2 x 200GB, 400GB, 800GB, or 1.6TB SSDs. An all-flash configuration is available and that will, obviously, have the best performance. Max capacity per node is 11.2TB in the hybrid config and 9.6TB with the all-flash one. Quadruple the numbers for the max capacity per 4-node chassis.
Components are hot-swappable and the software is Nutanix 4.1.2, which supports VMware's ESXi, Hyper-V, and Nutanix' KVM software (Acropolis). Host access is by 1 or 10GbitE.
As a reminder, Nutanix' Distributed File System (NDFS) runs in a Controller VM (CVM) on each node (server), aggregating the direct-attached storage resources across all the nodes.
Target customers are service providers, on-premises data centers (termed private clouds) with the XC6320 running virtualized business apps like SQL, Oracle, Exchange, and SharePoint. These are the existing set of potential and actual XC customers, but ones who need more powerful appliances. They should be pleased, being able to buy one, rinse, and repeat.
SCOS 6.7 is a free upgrade for supported customers. ®