NASA deep space scope serves up EPIC Earth snapshots
But you won't see stars through it, warns space agency
NASA has unveiled a portal serving daily images of Earth snapped by its Deep Space Climate Observatory (DSCOVR).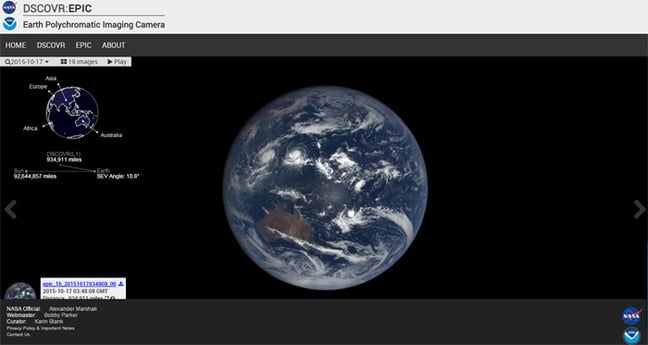 From a distance of roughly 1.5 million kilometres, at the L1 Lagrange point between the Earth and the Sun, the spacecraft's Earth Polychromatic Imaging Camera (EPIC) will deliver "at least a dozen new colour images of Earth acquired from 12 to 36 hours earlier".
EPIC packs an 11.8-inch (30-centimetre) telescope and 2048 x 2048 (four megapixel) CCD detector, which capture data in 10 wavelengths ranging from the ultraviolet to near-infrared.
For the visible light portraits, three separate red, green and blue wavelength images are combined to create a fetching portrait.
DSCOVR project scientist Adam Szabo said of the snaps: "The effective resolution of the DSCOVR EPIC camera is somewhere between 6.2 and 9.4 miles (10 and 15 kilometers)."
To pre-empt objections that there are no stars visible in the photos, NASA notes: "Since Earth is extremely bright in the darkness of space, EPIC has to take very short exposure images (20-100 milliseconds). The much fainter stars are not visible in the background as a result of the short exposure times."
Just how bright our Blue Marble is was demonstrated back in August, when EPIC caught a surprisingly dull Moon transiting Earth. Szabo said: "Our planet is a truly brilliant object in dark space compared to the lunar surface."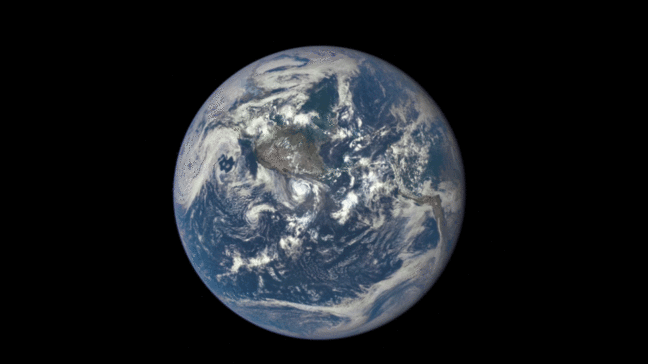 EPIC view of Moon transit
The primary objective of the DSCOVR mission, which launched back in February, is "to maintain the nation's real-time solar wind monitoring capabilities". To do this, its instruments monitor the solar's wind's "velocity, distribution and magnetic field", in the process offering "a 15-60 min lead time on geomagnetic storm warnings". ®