This article is more than 1 year old
openSUSE Leap: Middle ground between cutting edge and conservative
Version 42.1: Life, the universe and everything
Good combo, small community
It's the combination of these things (the powerful tools in YaST, the stability of SUSE Linux Enterprise, the latest packages from Tumbleweed) that make Leap compelling. It will likely be especially compelling to enterprise deployments.
The only thing that feels missing from openSUSE at this point is the widespread adoption from users. Which is to say, that the community just doesn't feel as big as what you'll find in the Debian/Ubuntu or even Arch worlds. That may well change with Leap, though. If you've ever been on the fence about openSUSE, I strongly suggest giving Leap a try.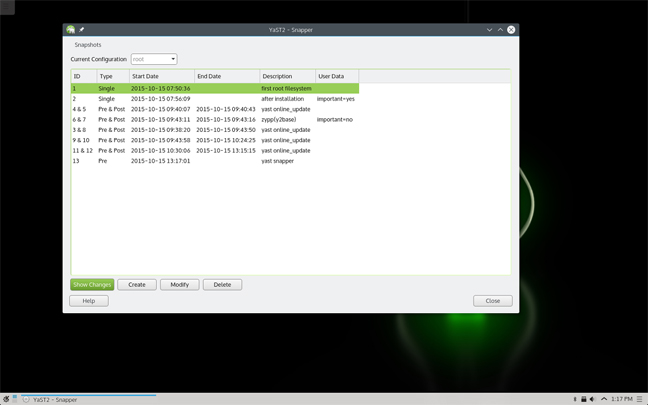 Browsing Btrfs snapshots with Snapper
Another aspect of the Leap that's worth mentioning is performance. I tested Leap primarily in virtual machines, but I did install it on my old Asus EeePC and was impressed with how snappy it manages to be on what is, at this point, very out-of-date hardware (for the EeePC I tested the much lighter weight LXDE desktop, not KDE).
One of the measures of a distro is how long it will stand behind its releases and on that score Leap is once again looking like a great release. The precise life cycle of Leap is still up in the air, but expect it to be a "long term support" style release, roughly mirroring SUSE Linux Enterprise.
At the very minimum, this Leap 42 release will be supported until Leap 43 arrives. Given that Leap 43 will be based on SUSE Linux Enterprise 13, which isn't due for at least two years, it's safe to say that Leap will last quite a while.
That said, do keep in mind that this is a beta. This release makes a good preview, but for day-to-day use, you'll want to wait for the final release (due November 4) before diving in with both feet. ®