This article is more than 1 year old
Solidfire enters ninth circle of Dell, emerges clutching new blueprints
AI for VI supports up to 750 VMs
Solidfire has produced a networking-based reference architecture for vSphere using Dell kit.
The architecture combines various suppliers' components so resellers can put together a converged system with a single SKU – a single part number, in other words – for their customers. This should simplify the ordering, deployment and management of the IT gear. NetApp and Cisco's FlexPod set the stage for this style of tech buying, following on from EMC, Cisco and VMware's VCE-built Vblocks.
Solidfire has called its blueprints "Agile Infrastructure for Virtual Infrastructure," a great example of long-winded product branding often used by corporations.
This is separate from the Solidfire-Dell Agile Infrastructure for OpenStack, which supports up to 1,000 virtual machines. (A Cisco-UCS-Solidfire Agile Infrastructure for OpenStack supports between 1,000 to 2,500.)
Solidfire's Agile Infrastructure for Virtual Infrastructure [PDF] uses Dell R630 servers, S55 and S4810 switches. The blueprint allows no straight comparison with the Agile Infrastructure for OpenStack designs, but suggests 750 virtual machines can be supported.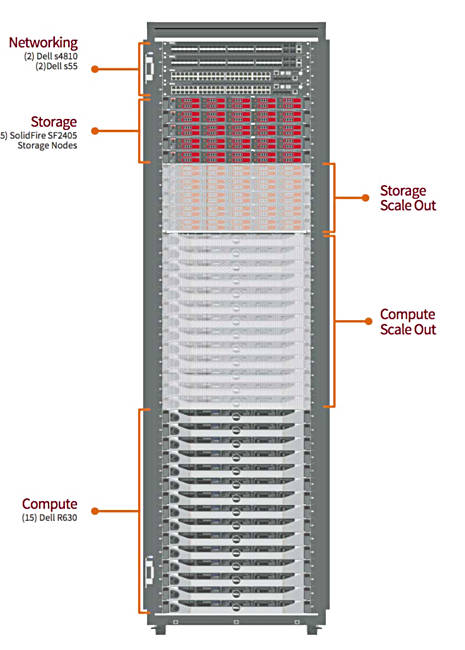 Solidfire-Dell Agile Infrastructure for Virtual Infrastructure
The reference architecture states:
As a proof point to validate the mixed workload capabilities of this architecture, the following operations were run concurrently on the SolidFire AI design:

Boot storm of 500 VMware Horizon View 6 desktops
Two Oracle OLTP database workloads running approximately 230,000 TPM
A MongoDB job running 70 concurrent threads
Solidfire says: "The specific hardware configuration was designed to accommodate up to 48 vCPUs per compute node (Dual 12 Core Processors). Across the 10 compute node deployment utilized in this reference architecture, assuming a conservative oversubscription rate of 2:1, total vCPU count aggregates to 576. Assuming that VM provisioning in this environment adheres to the same vCPU oversubscription rate, this would translate to at least 750 VMs within this footprint."
But your mileage could "vary considerably depending on instance sizing and resource requirements."
SolidFire will demonstrate Agile Infrastructure for Virtual Infrastructure from October 20 to 22 in booth 2010 at Dell World 2015 in Austin, Texas. ®