AMD will today unveil Merlin Falcon, its latest R-series processor aimed at industrial systems, medical devices, gambling machines, digital signs, military hardware, and so on.
Think of Millennium Merlin Falcon as a cousin of AMD's Carrizo processor design, which is aimed at normal IT gear – laptops, tablets and desktops. Merlin follows on from the Bald Eagle R-series processor that emerged in May last year.
The new bird of prey is a true system-on-chip in a 37mm x 29mm BGA package with a built-in Southbridge; four Excavator x86 cores; AMD Radeon third-gen GCN GPU; DDR3 and DDR4 ECC memory controllers; interfaces for PCIe, USB 2, USB 3, SATA, SD cards, SPI; and 4K video output. The 64-bit x86 cores' maximum clock speed lies between 1.6 and 2.1GHz, depending on the part ordered.
Merlin also does HEVC/H.265 video decode in hardware, supports DirectX 12, and includes AMD's Secure Processor – which is an ARM core that runs independent of the x86 silicon to keep the system's integrity in check.
According to Mini-Chipzilla, this is the "first AMD processor to support DDR4." It will have a "100 per cent open-source Linux stack," and conforms to HSA 1.0 so applications can map the GPU into their virtual address spaces for fast and simple access to accelerated number-crunching.
The chip can hook up to DDR4-2400 and DDR3-2133 memory, supports 1.2V DDR4 and 1.5V/1.35V DDR3 sticks, and has a TDP between 12W and 35W which can be fine tuned by the programmer in one-watt steps. That means you can tell the chip to, say, limit itself to 20W, and it will automatically throttle performance if necessary to stay within that envelope.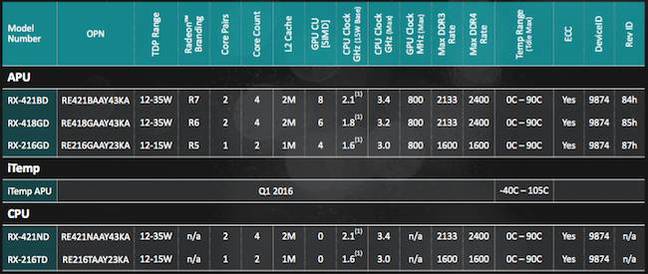 The planned Merlin Falcon specifications ... click to enlarge
As mentioned above, this second-generation R-series chip is for embedded systems, like portable ultrasound devices and video slot machines. AMD hopes casinos and arcades – particular Japan's pachinko arcades – will snap up machines powered by Merlin to give players a neon-lit trip in 4K resolution.
This depends on arcade and slot machine makers putting one and one together and making two: AMD is known for making GPUs for video game consoles, so why not bung the silicon into gambling and arcade machines to attract a younger generation with console-grade graphics.
That's what AMD hopes the hardware designers will think, anyway.
You can't walk into a store or a webpage and order one of these things for your PC. Drop the California chip biz a line if you're interested in the SoC. Mentor Graphics has told The Register its embedded GNU/Linux runtime and development tools are available for Merlin from today. ®