This article is more than 1 year old
WD is gobbling SanDisk, so what's on the menu? A deflating soufflé
Quick, turn it into a lava cake or something
Revenues of $1.45bn in SanDisk's third calendar 2015 quarter were 17 per cent down on the annual compare, although that number beat Wall Street's estimate of $1.4bn. They were comfortably higher than the second quarter's $1.23bn, in fact 17 per cent higher – neat.
Net income was $133m, a huge 50 per cent less than the year-ago quarter's $263m, but more than the previous quarter's $81m.
This sets the scene nicely for its acquisition by Western Digital, with SanDisk recovering somewhat but still needing a white knight to give it enterprise supplier chops.
CFO Judy Bruner said: "On a year-over-year basis, our revenue remains down due primarily to the previously discussed client SSD platform loss and a decline in the TAM [total available market] for retail products ... Our revenue declined slightly sequentially in both removable products and enterprise products. Within enterprise, we experienced growth in our PCIe and SATA sales offset by a decline in SAS revenue."
Sanjay Mehrotra, SanDisk's CEO, talked about cost controls helping profitability: "Our mix of 15 nanometer, three-bit-per-cell (X3) technology helped drive substantial cost reduction in the quarter."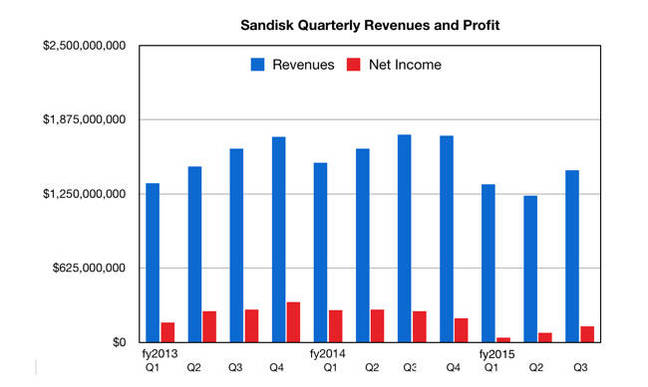 In prepared remarks he said: "Revenues from our Fusion-io based PCIe solutions as well as our SATA product line grew sequentially and year-over-year. Our first captive NAND-based Fusion-io PCIe solution, launched in April, completed qualification at a large OEM, and qualification work is progressing well with other customers."
SanDisk's 2TB enterprise SATA SSD, using 15nm technology, has been qualified by and is shipping to "a major hyperscale customer during the third quarter, with additional hyperscale and OEM qualifications underway."
But the enterprise share of its sales has fallen recently, as this chart shows: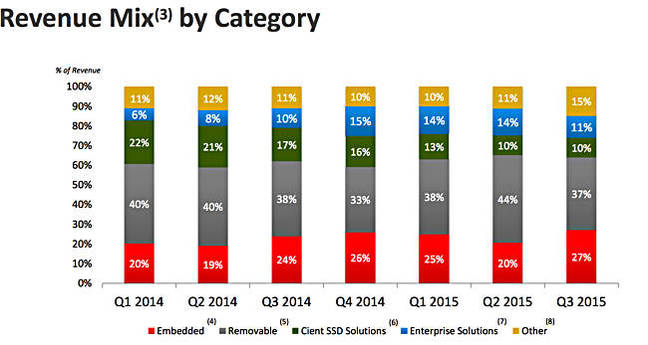 SanDisk revenue mix by category by quarter
New 15nm, 12Gbit/s SAS products are coming in 2016.
Mehrotra said overall client SSD revenue grew both sequentially and year-over-year despite a weak PC environment. The company estimates that nearly 40 per cent of all corporate laptops will be shipping with client SSDs by the end of 2015 and expects to see a 60 per cent attach rate before the end of 2016.
Turning to 3D NAND, where Samsung has been shipping product for some time, Mehrotra said "During the third quarter, we began 3D NAND pilot line operations using our 48-layer, 256-gigabit X3 chip, and we expect to use initial output for internal product development and validation before commercializing it beginning in 2016."
The company, pending its acquisition by Western Digital, is suspending dividends and share repurchases, from the start of the fourth quarter.
For some reason, SanDisk is not going to host an earnings conference call due, it said, to its acquisition by Western Digital, meaning no public inquisition session.
Bruner expects final 2015 quarter revenues to be between $1.4bn and $1.475bn, say $1.44bn at the mid-point. That would suggest $5.46bn revenues for the full year, which would be 18 per cent down on 2014. Losing OEM supply contracts can cut really deep. ®