This article is more than 1 year old
Fab-ulous: Toshiba debuts 10.5K 1.2TB spinner, joins SanDisk for 3D flash gig
Capacity counts – with platter layers and planar NAND layers
It's all about layering, as hairdressers, disk drive and flash foundry folk would say. Toshiba has added a platter to a 10.5K disk drive to bump up capacity, and is converting a flash fab to pump out 3D flash chips with layers of planar NAND inside them.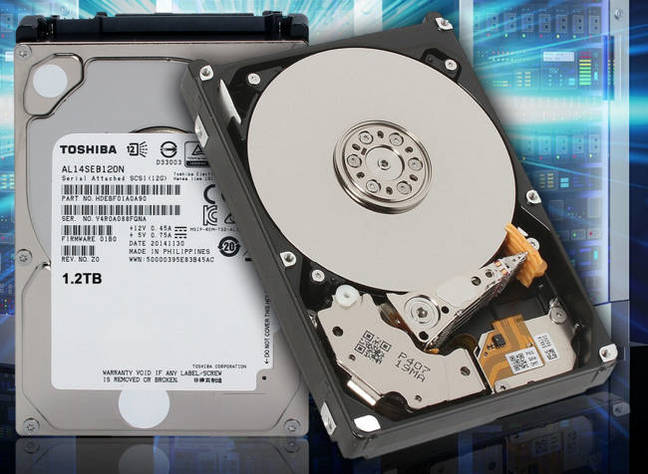 Toshiba's AL14SE 10.5K 1.2TB disk drive
Toshiba has updated its AL13SE 2-5-inch disk drive by adding an extra platter and increasing maximum capacity by a third to 1.2TB. Both drives spin at 10,500rpm and Tosh has taken the opportunity to upgrade the interface from 6gig SAS to 12gig (dual-ported). The cache doubles from 64MiB to 128MiB as well.
The new drive has a 512n sector length for compatibility with the latest generation host controllers and host bus adapters.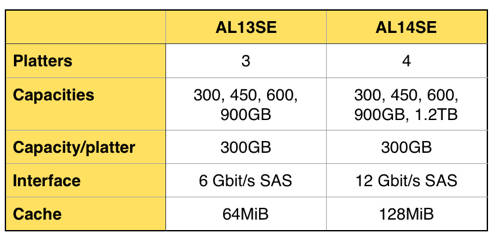 AL13SE and AL14SE comparison
Tosh says "the AL14SE is designed to support OEM customisations of value-add features such as optional RAID rebuild assist and optional self-encryption feature sets." With its 10.5K spin speed, it offers a middle way between lower capacity, higher speed 15K drives, and larger capacity but slower 7.2K drives.
Both HGST and Seagate have 1.8TB 2.5-inch drives with 12gig SAS interfaces – the Enterprise Performance 10K.8 in Seagate's case and the Ultrastar C10K18000 in HGST's. Their middle way is better. So Toshiba needs to up its areal density game to catch up.
SanDisk flash fab conversion
Separately Tosh and partner SanDisk announced the start of equipment installation in their New Fab 2 facility at Yokkaichi Operations. This is primarily intended to provide the clean room space necessary to transition a significant portion of current 2D NAND chips to 3D flash memory (BiCS FLASH).
BiCS FLASH chip production should start in the first quarter of 2017. We're told "Toshiba and SanDisk will each determine the extent and timing of their respective conversions to 3D flash memory based on their own requirements."
Samples of the Toshiba AL14SE 512n sector of HDDs are available now. ®