This article is more than 1 year old
All Dell breaks loose in latest Gartner disk array magic quadrant
NetApp and IBM stumble, EMC still ahead
Dell has become a top-four player in disk arrays, as IBM and NetApp are left behind in Gartner's 2015 Magic Quadrant for general purpose disk arrays.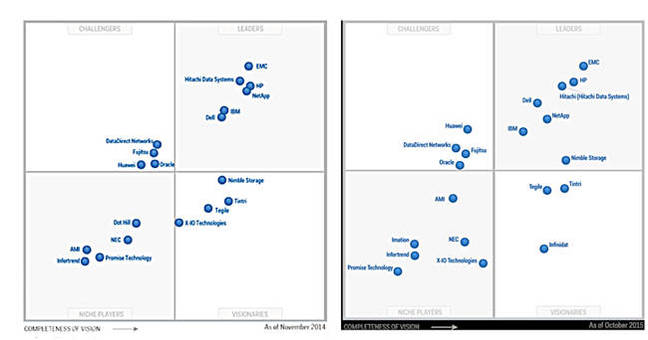 Gartner Magic Quadrants for general purpose disk arrays – 2014 (left) and 2015 (right) ... Click to enlarge
Nimble Storage enters the leaders' quadrant for the first time while X-IO, a visionary in 2014, fades and becomes a niche player. A comparison of the 2014 and 2015 MQ charts shows these and other moves. Doing a box-by-box tour and starting in the leaders' square, for suppliers with the most complete vision and best execution ability, we find EMC at the top followed by HP ahead of HDS, and then, in an about-turn, Dell, with Netapp and IBM positioned behind. IBM is potentially heading for leader's box exit if it doesn't raise its storage game.
Gartner's document goes so far as discuss IBM getting out of storage:
Concerns about IBM exiting the storage business are understandable, but do not adequately take into account the consequences of that action. If IBM exited the storage business, it would have to enter into an OEM relationship with a storage competitor for z/OS mainframe storage, or give up the architectural influence over R&D spending and residual margins that an OEM relationship provides. It would also be an unnecessary decision, given System Storage DS8000 series market share in the z/OS mainframe market.
The research house also discusses NetApp's situation:
The vendor has been concentrating on the transition of its Data Ontap FAS array software to clustered Data Ontap (cDOT) array software, and on developing its data fabric solution. While the majority of new customer sales are cDOT, the transition is taking years, with many customers not wanting or needing to move to clustered Data Ontap. During this transition, NetApp has been losing market share, and there have been significant changes in the management structure, including the CEO. Overall, staff turnover has also been high, and due to this turmoil, some customers are questioning NetApp's future direction.
In the visionaries' corner, where completeness of vision is paired with less ability to execute, Moshe Yanai's high-end disk array startup Infinidat appears for the first time. Tegile catches up a little with Tintri and both get better at executing. X-IO though, as judged by Gartner's gnomic ones, has leaked away both vision and execution and goes left to the niche players' box.
Imation makes an appearance in that box, courtesy of Nexsan, and AMI, American Megatrends Inc., makes a quite dramatic move up in the box, thanks to its iSCSI StorTrends array. Gartner says that, as of June 2015, AMI has over 1,300 installed systems.
Dot Hill disappears this year, thank you Seagate, and Promise Technology falls back a little.
In the challengers' square there has been minor re-positioning by the four suppliers present in 2014; DataDirect Networks, Fujitsu, Huawei, and Oracle, but no substantive changes there. ®