Seagate moves head moneyman to undefined role, promotes new CFO
Just look after ... er ... you know ... stuff
---
Seagate has moved CFO Pat O'Malley to an undefined exec role and promoted Dave Morton to CFO.
Morton was Seagate's SVP, treasurer and principal accounting officer, and now gets an EVP hat. O'Malley, CFO since 2008, keeps his existing EVP status but becomes responsible "for a broad range of strategic and operational issues."
Steve Luczo, Seagate's CEO and chairman, provided a statement about this: "Pat has deep expertise in Seagate's business and I am pleased that he will remain with the company in this strategic role. As we continue to effectively leverage and invest in our storage technology portfolio to provide a broader solution set for customers, Pat's industry knowledge and insights will help us to drive innovations and efficiencies across our business."
It sounds like he's an advisor with no operational responsibilities any more. Alternatively, this move is Seagate's variation on HP's David Donatelli tango, with no loss of status while the moved exec looks for another job.
Along with the CFO change, Seagate also announced a dividend increase of 17 per cent. The company's quarterly revenues and profits trend has been downwards, with a warning earlier this month that this would continue.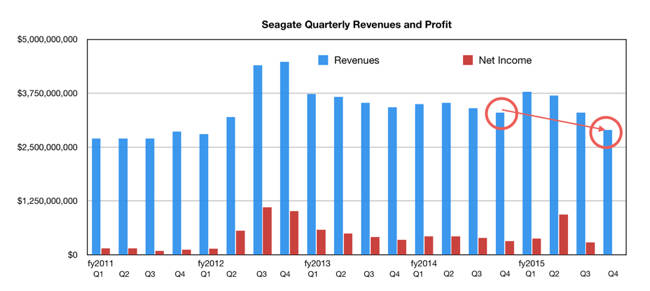 Comment
Recent events affecting Seagate's strategic situation have included:
Western Digital and HGST integration starting giving WD disk cost production efficiencies and helium drive opportunities
Unisplendour's $3.8bn investment in WD
Western Digital launching its SanDisk takeover deal, giving it a flash fabs capability plus lots of flash hardware and software assets
Relative to Western Digital, Seagate looks weaker from a strategic positioning point of view and raising the dvidend could help keep investors sweet. However, that's a knee-jerk and doesn't solve the basic problem which is that Western Digital is better positioned in high-capacity disk drive technology, meaning helium-filled drives with an extra platter compared to Seagate's air-filled tech. Also Western Digital is now much better positioned with regard to flash technology, which is becoming the natural place to store primary data rather than disk.
Were Seagate to respond to this in a meaningful way, such as buying its way into the flash fab business, then it would need to spend billions of dollars on top of the millions focussed on developing disk drive technology. The implcation we take from O'Malley's move is that there have been tensions at the top of Seagate concerning where, when, and how money should be used, raised, and spent.
A financial analyst source agrees with this view, thinking the O'Malley move is a response to problems and challenges Seagate has been experiencing.
Expect more news from Seagate soon, news with financial implications. ®