A fully-functioning four-rotor M4 Enigma WW2 cipher machine has sold at auction for $365,000.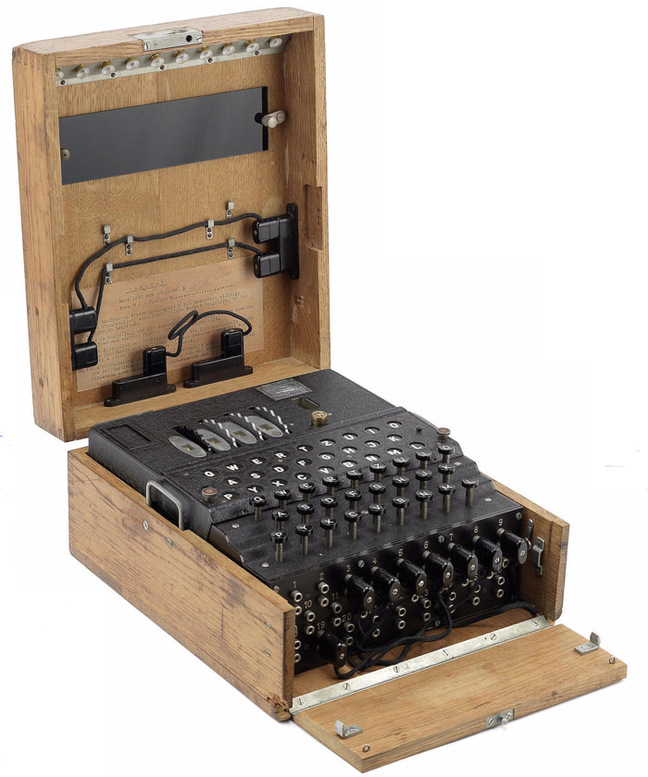 Rare and pricey. Pic: Bonhams
The German encryption device, as used by the U-Boat fleet and described as "one of the rarest of all the Enigma machines", went under the hammer at Bonham's in New York last night as part of the "Conflicts of the 20th Century" sale.
The M4 was adopted by the German Navy, the Kriegsmarine, in early 1942 following the capture of U-570 in August 1941*. Although the crew of U-570 had destroyed their three-rotor Enigma, the British found aboard written material which compromised the security of the machine.
The traffic to and from the replacement machines was dubbed "Shark" by codebreakers at Bletchley Park. Decryption proved troublesome, due in part to an initial lack of "cribs" (identified or suspected plaintext in an encrypted message) for the new device, but by December 1942, the British were regularly cracking M4 messages.
Bonhams estimates that from early 1942, the U-Boat fleet was equipped with perhaps 1,600 M4s. Many were lost in sinkings, while submarine captains were ordered to destroy them if their vessels were captured. The auctioneers say there are now around 120 machines in existence, "mostly one suspects, languishing in government storerooms around the world".
The provenance of the example that went under the hammer yesterday is not noted.
Back in April, Bonhams sold a 1944 three-rotor Enigma for $269,000. ®
U-boatnote
Naval history buffs (including Vulture Central's very own backroom gremlins) will know that after being captured by the British, U-570 was commissioned into the Royal Navy as HMS Graph. After trials and evaluation she was pressed back into frontline service with the RN, even attacking another German U-boat. Further reading available via uboat.net.