Networking ace reveals: Intel planned NVMe for XPoint
Chipzilla's long game starting to pay off
Comment According to Packet Pushers networking whiz Greg Ferro, Intel created NVMe because they needed it for 3D XPoint memory, which thought totally revised my thinking of NVMe as simply a way to create a standard PCIe flash card driver, and Intel's role in XPoint development.
Ferro supplied an Intel slide deck from an Intel Cloudification of Storage briefing earlier this year. When Intel and Micron launched 3D XPoint as a new and persistent memory tier technology earlier this year they had 3D NAND technology and NVMe drivers and SSD products existed.
Apparently and out of the blue the two launched 3D XPoint memory, positioning it as 1,000 times faster than NAND, denser and cheaper than DRAM but not as fast.
With Micron having NAND fabs and Intel partnering Micron in IMTF and thus getting s supply of NAND chips, it was easy to think of Micron as the main technology supplier in XPoint.
Apparently not.
Exhibit 1 is this NVMe slide from the Intel deck: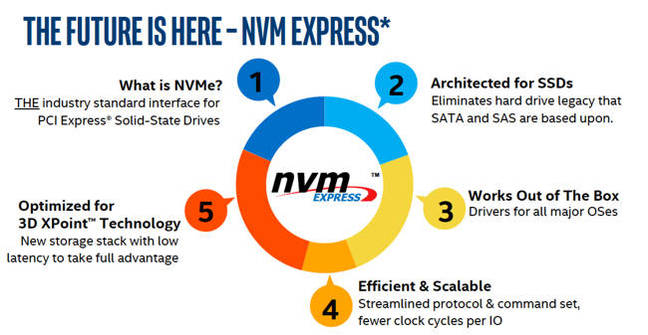 Point 5 on the slide is labelled [NVMe is] "Optimised for 3D XPoint Technology [being a] New storage stack with low latency to take full advantage." XPoint memory will be mounted on PCIe cards and branded as Optane SSDs.
Another slide from the deck illustrates NVMe and XPoint's latency reduction properties: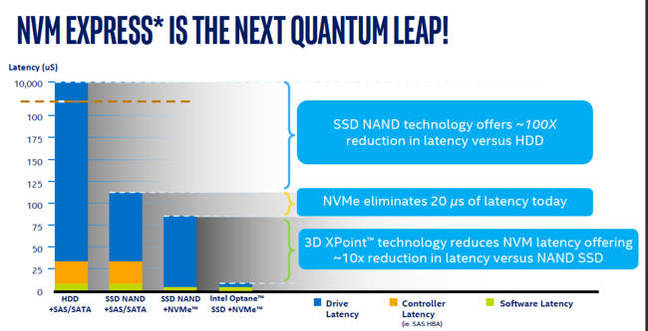 It says flash SSDs are 100x faster than HDDs in latency terms, with total access latency made up of drive latency, controller latency and latency caused by software. Moving to NVMe flash SSDs reduces latency over SAS or SATA SSDs by 20 micro secs to around 80 micro secs, judging from the slide, by cutting out controller latency.
Then by moving on to NVMe-accessed XPoint SSDs latency is cut to a tenth of that, say c8 micro secs, with minimal software and drive components.
A third slide in the deck show Intel's thinking about nearline storage media: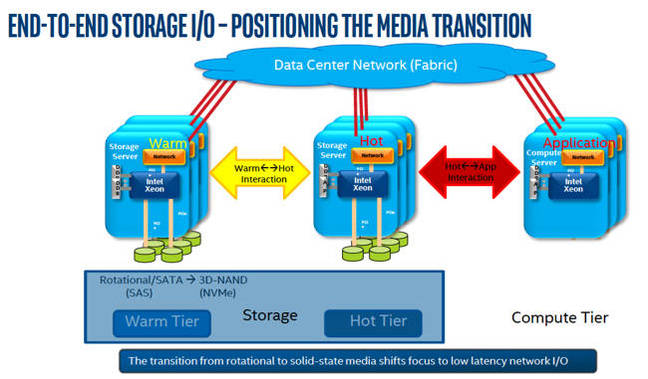 We see, on the right, a bunch of compute servers running with applications. These perform IO to storage servers holding so-called hot data. These talk to the leftmost set of storage servers which hold warm data and which, like the hot tier storage servers have PCIe-connected storage drives.
The warm tier drives are described as being spinning SATA or SAS disks which will change to 3D NAND SSDs accessed via NVMe.
Obviously, in Chipzilla's world 3D NAND plays a huge role and that helps us to understand why it is converting its chip-set plant in Chinese seaside city of Dalian to make 3D NAND chips independently from Micron and the Intel Micron Flash Technologies (IMFT) joint-venture.
The possibilities for Intel to sell board-level components including Xeon processors, 3D NAND storage and NVMe drivers with ancillary chips could be mouth-watering. And then it could add in 3D XPoint as persistent memory and get a higher proportion of customers' system spend than it does now.
There's a lot of convergence onto its chip technology at server system component level being planned by Intel, and XPoint seems now to be a component of a long game being played by Chipzilla and not some out-of-the-blue technology. ®