Bond on Film Aston and Martin. Two words as synonymous with Britishness as "cuppa" and "tea" or "Her" and "Maj."
Of course Aston Martin is synonymous with something else, too: James Bond.
It was a DB5 that debuted in Goldfinger in 1963 and which Bond won in a poker head-to-head in Casino Royale with Alex Dimitrios. The car soon became a part of the 007 legend.
We covered the DB5 in our special on the release of seminal Skyfall three years ago, here.
In our special month of Bond from 2012, marking the 50th anniversary of Bond on Film, we also tackled: The non CGI technology used to bring Bond to film; the physics of a martini; looked inside the mind of a super villain; told the story of Q; and speculated as to whether it would really be possible to destroy Silicon Valley.
Coming bang up to date and back on Astons, Spectre – the 24th Bond film, which is to be released on Monday 26 October in the UK – will see Aston-Martin model number six take its place in the legendary canon: as the DB10.
But, mind, this is a concept car, with just 10 DB10s built and eight used in filming. Of these, seven were actually written off. The, ahem, car-nage, is reported to have totalled £24m.
If you're flush, you could get to own one of the few remaining vehicles, as a DB10 will go under the hammer at a charity auction next year.
What can you expect to see on screen and what, if you're very, very lucky, would you get for your money?
The DB10 is chassis based on a modified V8 Vantage but with a longer wheelbase, and with a 4.7 litre V8 engine. Top speed is 190mph (306kmph) with the vehicle able to make 0-60mph in just 4.7 seconds.
The DB10 was been built with the curves of the classic DB5 of earlier Bonds in mind. Spectre director Sam Mendes is said to have wanted a car that had clean, clear lines – something so classic that it's almost impossible to place its year of birth.
The DB10 isn't the only concept car in Spectre: Jaguar has rolled out a C-X75 capable of hitting more than 200mph (323kmph) and doing 0-100mph in less than six seconds. Seven of these were deployed to film a spectacular chase scene though Rome at 110mph (177kmph). Ironically, it was a Jag that could have been Bond's car of choice, as legendary Bond producer Albert Broccoli is supposed to have wanted, and been turned down by Jag boss Sir William Lyons over a couple of E-Types for filming.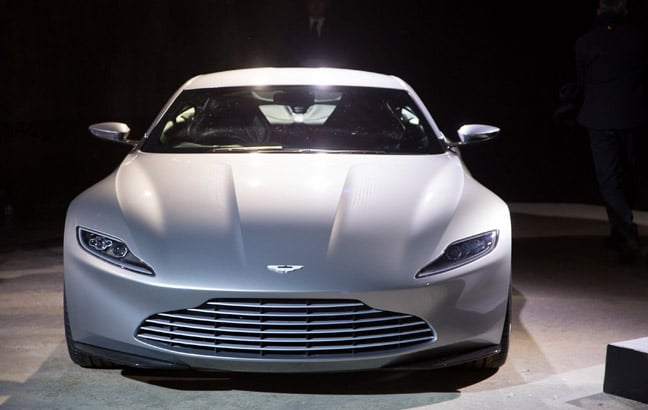 Meet the new car, same as the old car. Sort of: Spectre's DB10.
Bond has driven many cars since he first appeared on screen in Dr No, but there's one make he returns to and which causes our hearts to flutter a little each time.
The Aston, a DB5, was introduced in Goldfinger and re-appeared with 1995's franchise reboot GoldenEye.
But love is brutal in Bond's world and many's the film where Astons are trashed fictionally and literally.
In Skyfall, a DB5 bearing the plates of the vehicle he won in Casino Royale is reduced to metal Swiss cheese by Raoul Silva's henchmen.
The Aston in Casino Royale, the DBS V12 (actually a modified and re-enforced DB9), is trashed while taking a bend to avoid Vesper Lynd. Just one afternoon's worth of shooting that 70mph rollover cost a trio of Astons – each valued at $300,000.
Shocking.
You can enjoy the rest of our coverage – from Dr No to Skyfall, here. ®
Similar topics