This article is more than 1 year old
Citrix's boutique virtualisation strategy is working. Mostly
When it wins Citrix wins big, but Hyper-V and vSphere are winning too
Citrix has taken the unusual step of releasing some market share data that doesn't show it in a completely flattering light.
Citrix more or less backed out of the mainstream server virtualisation market in 2013 and 2014. In the latter year analyst firm Gartner said the company "is no longer investing strictly to keep up with market leaders VMware and Microsoft for traditional server virtualization." The new strategy Citrix adopted was to make sure that its hypervisor did an exceptional job of running its own software, so that when customers splashed out on XenApp or XenDesktop it made more sense to also buy Xen Server. The company also focussed on hyper-scale, to reach for the service provider and/or cloud markets.
The data revealed last week shows the plan is doing alright. For Xen Desktop, the company finds 55 per cent of deployments on Xen Server.
That data's not perfect as it counts only Xen Desktop customers opted-in to sending Citrix telemetry.
So Citrix cast the net wider by relying on a third-party survey. That data showed that XenApp and XenDesktop as re way ahead in terms of operational deployments. But it also turned up the graph below describing the hypervisor below XenDesktop rigs.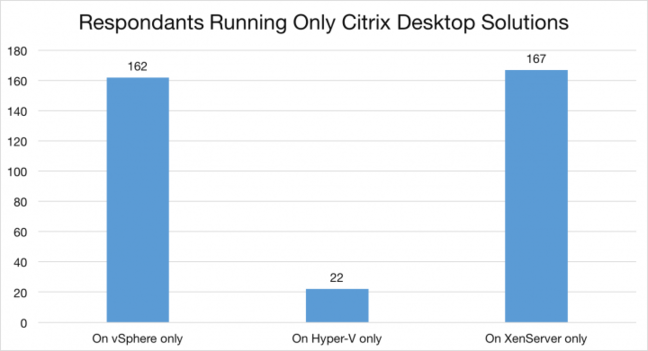 Hypervisor usage where a respondent is using Citrix desktop solutions only
Source: http://stealthpuppy.com/automation-survey-results-vdi-platforms/
That result is less pleasant reading for Citrix because a majority of XenDesktop users are now running other hypervisors. It's not a shocker, though because it also shows that some folk who own and run vSphere or Hyper-V are using it to underpin XenDesktop. So Citrix is winning even if it doesn't always take the whole pot of virty cash on offer.
One ray of sunshine: Citrix says three of four XenDesktop deployments with over 10,000 seats are on XenServer. Which looks good if you say three quarters of large-scale Citrix desktop virtualisation users are using Xen Server. The view may be less pretty if you consider that Citrix's attempts to make XenServer scale a long, long way mean 25 per cent of large-scale XenDesktop users aren't buying in to that premise.
Citrix is having a difficult time of things at present. Results are improving, but a new CEO is yet to arrive and whoever gets the gig will have a mandate to wield the broom … if the company manages to get someone into the big chair before a possible sale.
If Citrix is able to repeat this analysis in a year, it will be interesting to see if its users still see it as a good bet for virtualisation, never mind its other products. ®