With three straight quarters of revenue declines QLogic still has to articulate a product strategy and start searching for a new CEO, leading to thoughts that the board is looking to sell the business.
Its second fiscal 2016 quarter saw revenues of $103.4m, 19 per cent down on the annual compare and nine per cent down on the sequential comparison to Q1.
Net income was $2.2m, a huge (80 per cent) drop on the year-ago $11m, and 15 per cent less than the first quarter.
So pretty bad all round. This being the third straight quarter of falling revenues investors, customers, partners and employees will wonder what the company is doing about it.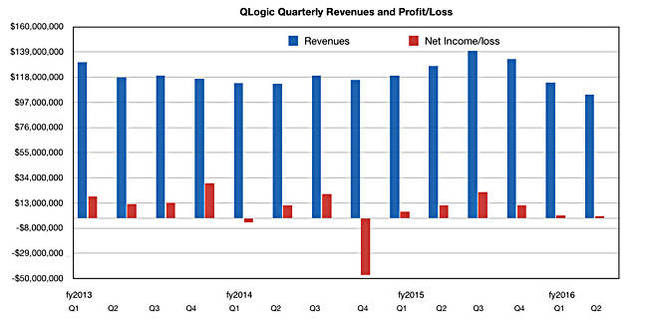 QLogic results to Q2 calendar 2015
QLogic seems to have fired its CEO, Prasad Rampalli, in August. He was forced out after lousy first quarter numbers. QLogic's CFO Jean Hu became interim CEO while a boardroom coup saw Christine King become executive chair-person.
A workforce reduction program was announced in September
The background to all this started with legacy guiding light chairman HK Desai, who appointed Rampalli CEO. Desai died aged 68 in June last year. The successor chairman, George Wells, had a short reign, losing out to King.
Here we are a couple of months later and the damage is clear to see. Revenue from Q's Advanced Connectivity Platforms (adapters and ASICs for server and storage connectivity applications such as Fibre Channel and Ethernet) was $93.4m compared to $114.9m in the same quarter last year. Its Legacy Connected products division (Fibre Channel switch products) revenue from Legacy Connectivity Products, which are comprised primarily of Fibre Channel switch products was $10m and it declined from $12.6m recorded a year ago.
Hu's prepped quote said; "During the second quarter, we prioritised our investment programs to renew focus on our core Fibre Channel and Ethernet product portfolios. We have launched new Fibre Channel products and achieved significant design wins with our 25/50/100Gb differentiated Ethernet solutions. We believe we are making important progress on the business and operational fronts and remain sharply focused on improving our financial performance in the second half of fiscal 2016 and beyond."
Its basic problem is that its mainstay, Fibre Channel SAN connectivity, is a rapidly maturing market with hyper-converged, virtual SAN systems attacking it from one front and storage in the cloud attacking it from another. The business has a future but not a growth future, with 16Gbit/s HBAs and switches replacing the current 8Gbit/s installed base, and 32Gbit/s product set to to replace that in a fairly predictable way.
Q's attempts to grow its market beyond the core data network adapters have basically failed, as we can see from the example of the Mount Rainier flash-enhanced HBAs in 2012/2013. SAN connectivity oppo and competitor Emulex, facing roughly similar problems, threw up its hands under activist investor assault and sold itself to Avago for $600m in February this year.
Transcript revelations
We have been sent a copy of the earnings call transcript in which Hu said: "We have taken actions regarding our business within the goal of establishing stability and regaining our business momentum. The board believes that the current leadership structure is appropriate as we continue to evaluate our business and market opportunities and to focus on execution in our core areas. At this time, the board has not established a timetable for beginning a search for a permanent CEO."
So interim CEO arrangements rule with no decision made about looking for a permanent CEO.
Research and Development work has been cut back. "We decided to discontinue investment in certain non-core business R&D programs," said Hu. "This decision was based on the substantial investment required for potential product that would not have a meaningful revenue for several years."
He continued:
Quite frankly, this is where we have been and can continue to be the most successful. We are uniquely positioned as one of the few companies in the I/O networking space with the breadth and capability to deliver differentiated solutions for both Fibre Channel and Ethernet connectivity platforms. This will allow us to serve new and growing opportunities in both enterprise and cloud data centres.
SVP and GM Roger Klein talked about Q's latest Ethernet technology, saying: "At the Flash Memory Summit in Santa Clara in August, we demonstrated our Ethernet market leadership in several important new technology areas including 100-gigabit Ethernet, Non-Volatile Memory Express known as NVMe, and RDMA over Converged Ethernet known as RoCE. We combined these three leading technologies and demonstrated the ability to achieve over 3.3 million IOPS using Samsung's new NVMe solid-state disk flash memory drives."
That sounds respectable to say the least, and means Q is aware of the shrinking server-storage gap and the need of lower latency network access to all-flash arrays. Klein said; "We are driving aggressively to regain our Ethernet business momentum in the second half of fiscal 2016 and beyond."
Jean Hu talked about revenue timing from this: "Fiscal 2017 is the year we're going to see revenue from our 25-gig, 50-gig, and 100-gig Ethernet product."
The outlook for Q3 is revenues between $115m and $121m, $118m at the mid-point. They were $140.2m in the year-ago third quarter so no revenue re-building progress is immediately in sight.
Comment
Our take on this is that QLogic is ready for a merger or an acquisition. It can see roughly steady state business in its Fibre Channel/Ethernet ASICS and adapters business but can't see big growth there and, we would guess, it's too early to sense the size of the prospective business in ROCE-type server-storage linking.
A tie-up with Brocade could possibly make sense, as that would connect QLogic end-point adapters to Brocade switches. Otherwise Broadcom maybe, which has the old Emulex business. Cisco perhaps might entertain the idea of getting hold of QLogic's products and customers, but it tends not to buy up businesses that have a limited future.
The longer-term future for server-storage networking might be threatened too by Intel's Omni-Path. Good luck Q. ®