This article is more than 1 year old
CommVault cries out in revenue pain as profits slam into reverse
But it will get better, Bob says, as he puts his hammer down
CommVault's second quarter saw a deepening loss and continued revenue decline, putting the pressure to perform on its new software.
Days after the CommVault Data Platform, the rebranded Simpana, was launched, CommVault's quarterly results showed the need for it and its hoped-for revenue pick-me-up properties.
Revenues of $140.7m were seven per cent down on the annual compare and one per cent higher sequentially.
Net income showed a loss of $9.2m, contrasting starkly with the $6.5m profit from a year ago, and seven times worse than the first quarter's $1.3m loss.
Within this software revenue was $57.6m, up two per cent sequentially, down 17 per cent year-over-year. Services revenue was $83.2m, up two per cent year-on-year and one per cent quarter-on-quarter. All this reflects Simpana 10's difficulty in competing with nimbler appliance vendor products such as Veeam, and CommVault's troubles stemming from sales force issues that first appeared in April last year.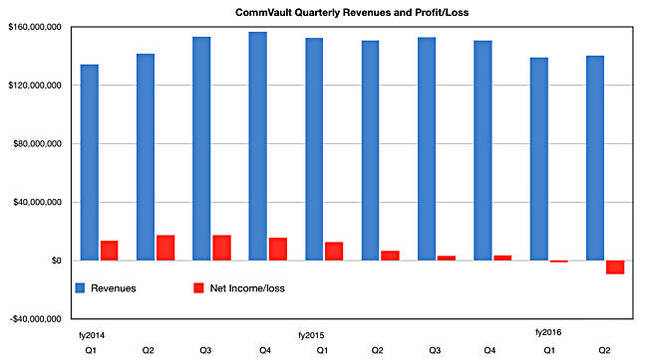 CommVault quarterly results to Q2 fiscal 2016
CommVault did better than the expectations of Wall Street, with CEO, chairman and prez Bob Hammer saying: "Strong efforts by our field organisations and positive reactions to our transformational initiatives contributed to substantial growth in sales pipeline inflow."
He probably hopes that translates to revenue pipeline inflow.
Hammer added: "We have increased confidence in our ability to achieve our financial objectives for the second half of fiscal 2016."
But CommVault hasn't provided an outlook for the next quarter.
Analysts will be watching CommVault to see if its sales force mishaps are behind it, with full sales staffing and good productivity, and its new version 11 software does the business with its customers. Previously CommVault has said it hopes for software license revenue growth in the high teens percentages in its fourth fiscal 2016 quarter. If that doesn't materialise than Wall Street will be worried, and so will Bob Hammer. ®