Micron's had its chips … and expects even more. Thanks Intel!
Intel Dalian flash fab viewed as simply good news
Intel's Dalian flash fab news was taken to mean bad things for the Intel Micron flash partnership and XPoint activities. Well, not necessarily so, according to a Micron insider to whom we spoke.
Intel announced it would pump up to $5.5bn into converting an existing chip-set fab in Dalian in China into a 3D Flash semiconductor fabrication plant, with subsequent development to produce leading edge non-volatile technologies, taken to mean 3D XPoint memory.
It would do this independently of its IMFT partnership with Micron, with whom it made the bombshell 3D XPoint announcement earlier this summer. Micron has by and large been quiet about this Intel news.
A Micron insider who wishes to remain anonymous, told us:
At the end of the day more storage growth means we need more fabs. If Intel wants to build it alone [then] we get more wafers back for Micron's growth without adding another fab too.
That seems a common sense point of view, and the idea that Intel converting a fab means Micron saves on its capital expenditure budget is neat.
There's a thought that Intel's activities will grow the 3D NAND and XPoint markets, and our Micron-person said: "[It's] still shared IP so we both grow together."
Stifle MD Aaron Rakers noted: "While we do not think that the announcement necessarily indicates any change in Intel's ongoing relationship with Micron around NAND development/production, we will be left to gauge how the move plays into the recent announcement that Charles Kau, former chairman of Inotera and former president of Nanya Technology, will soon join Tsinghua Unigroup as executive veep of Global Operations, to help develop China's home-grown DRAM technology and production capabilities."
He provided some info about Intel's China connections, which we have charted: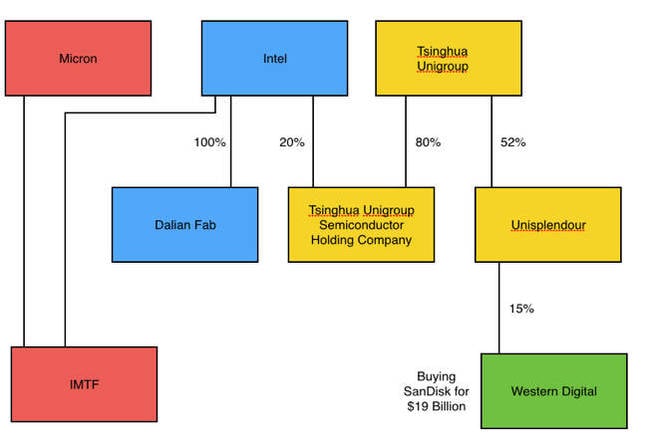 Intel and its solid state China connections
"Recall that Intel owns a 20 per cent equity stake in Tsinghua Unigroup's semiconductor holding company, which is 80 per cent owned by Tsinghua Unigroup, which also owns 52 per cent of Unisplendour (a company that made 15 per cent equity investment in Western Digital)," said Rakers.
Rakers comes at this from the point of view of China wanting to build its own DRAM, flash, and disk drive manufacturing capabilities, making a final point that "Intel's 3D NAND fab in China would not be the first, given Samsung's ~45 wafer starts per month effort."
We could be looking at a carefully thought out and ongoing technology transfer. ®