This article is more than 1 year old
WD revenues hurt by slack PC demand
SSD growth stalls but solid company set fair
Western Digital saw depressed PC and notebook sales affect its disk drive business in its latest quarter, with stalling SSD sales showing negative sequential growth.
A quick look at the numbers for the company's first fiscal 2016 which ended 2 October:
Revenue of $3.4bn, 6.3 per cent up on the previous quarter but 12.8 per cent lower than a year ago,
Net income was $283m, 29 per cent more than last quarter's $220m, and 33 per vent down n the year-ago quarter's $423m,
HDD units - 51.7m compared to 48.5m in the previous quarter and 64.7m a year ago as PC market depression continues,
SSD revenue growth stalled with a disappointing $223m, 9 per cent down on the prior quarter's $244m and 43 per cent higher than the $156m reported a year ago.
Chief exec Steve Milligan's had some prepared remarks: "Industry demand for hard drives was moderately higher than expected, driven primarily by strength in demand for 2.5-inch devices for game consoles and notebook PCs. ... Our storage shipments for the September quarter grew to 64 exabytes from 56 exabytes in the June quarter."

Western Digital revenue and net income to Q1 fy2016. Click chart to enlarge it.
He looked at the annual compare for SSD growth, saying: "Our enterprise SSD revenue grew significantly to $233m, reflecting the continued success of our SAS SSD products in an increasingly competitive environment. Additionally, we continue to ramp our new Ultrastar PCIe NVMe offering."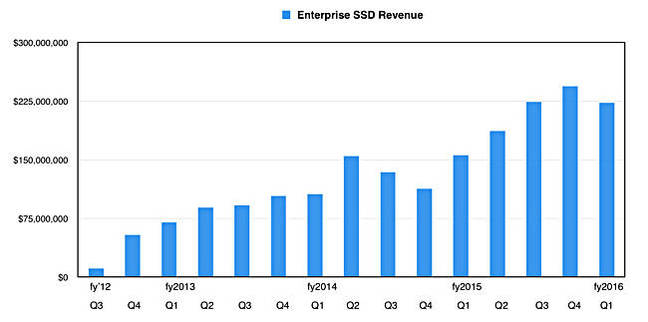 Western Digital SSD revenues growth stalls.
Video surveillance looks good as spy cam use proliferates: "Revenue from our video surveillance hard drives also continued its rapid growth as customers embraced our expanding line-up of these multi purpose-built solutions."
The HGST Active Archive system showed little revenue but got a plug none the less: "We continue to see positive market reaction to the value proposition of our new Active Archive system. We anticipate this new systems business will generate meaningful revenue next fiscal year."
He said there was good annual growth in the enterprise high capacity drive space, with 8TB helium-filled drives shipping in volume and 10TB ones due to ramp up in the next year. But "Overall demand in the high capacity space was somewhat softer than anticipated. This was due to absorption of previously deployed storage assets purchased earlier in the calendar year by some of our large customers."
On future prospects, he commented: "Growth in the capacity enterprise sector will continue, with a 35 per cent CAGR in exabytes anticipated on an annualized basis through 2020." Stifel MD Aaron Rakers thins Seagate will launch its own helium drive product in early 2016, based on comments by drive spindle manufacturer Nidec.
Milligan sees some stabilisation signs in PC demand, with refresh cycles, Windows 10 and Skylake, but he isn't saying an upturn is starting. Rakers writes: "WD highlighted that it is not necessarily bullish on a rebound in PC HDD shipments."
Overall Milligan is excited by three recent announcements and what they promise:
We believe we have the opportunity to improve our financial performance due to the integration synergies associated with the recent MOFCOM decision, coupled with our continued favorable mix of business. Longer term, the acquisition of SanDisk and the investment by >Unisplendour will help transform our company into a storage technology leader with a broader set of products, deeper technology base and an expanded addressable market.
Next quarter's revenue is expected to be between $3.3 and $3.4bn, flat in other words.
Rakers mentioned a point made about SSDs in the earnings call: "The company did note that it lost a little market share during the September quarter; company still maintain the leading enterprise SAS SSD market share previously at +40 per cent."
Comments
Will PC disk demand ever return to what look like the giddy heights of the past? It could be that SSDs, the rise of tablets, and data delivered from the cloud, could close the door on PC disk drive growth for ever.
Future enterprise capacity drive growth might be more in terms of capacity than units, although if public cloud data storage increases for consumers as well as businesses then unit sales should increase.
The SanDisk acquisition, if it goes ahead, will provide a solid bump-up in flash sales. Until then Western Digital has to rely on organic flash sales growth.
Overall Western Digital looks to be nicely positioned, with HGST integration synergies lowering expenses, the SanDisk buy giving it a great foothold in the flash market and foundry integration for the flash products. We might also think about the prospect of more array-level products, both for disk and flash. ®