This article is more than 1 year old
Warm your fingers by the bonfire of vanity on-premises storage
Rome's burning faster than thought but slower than hoped
Comment Public cloud storage supporters couldn't hope for a better cheerleader than Nasuni CEO Andres Rodriguez, whose company provides cloud storage gateways, including an on-premises caching device.
He hammered a nail in the on-premises storage coffin here in June, and is across the water in Europe again to swing the hammer one more time.
So what's new?
Rodriguez is playing the scaling card, saying you can't keep on amassing filer boxes in your mid-market, on-premises data centers. The only alternative, apart from deleting files, is scaling inside the public cloud – i.e., inside somebody else's data center, where you can keep on piling up virtual rented filers.
And for that you need cheap hardware capacity and a file system designed to scale, like Nasuni's filer and UniFS.
Another problem with file storage in general is that there are too many copies. Rodriguez says: "You need one logical single authoritative version of any one file in any modality; mobile, desktop, whatever." He's not talking about a single master copy, but having copies that all show the same version of the truth, so to speak.
The truth version is controlled from one place, and any changes to any file in the name-space are time-stamped and sent to this central place. From there they are rippled out to other copies if need be. In this central place where file truth is maintained, there is a filesystem which can have effectively limitless versions of any one file. Think snapshots of incremental changes stored forever in "an infinite running Time Machine" with no periodic consolidation down to a golden master or its equivalent.
This place is a customer's implementation of Nasuni's UniFS.

File change progression from on-premises copy to UniFS in the cloud
The Nasuni filer is an on-premises cache providing fast local access and sending all incremental changes to a file up to UniFS central, in deduped, compressed, and encrypted form. File snapshots can be taken every minute or less. Every version of a file is immutable, and some customers have millions of stored snapshots.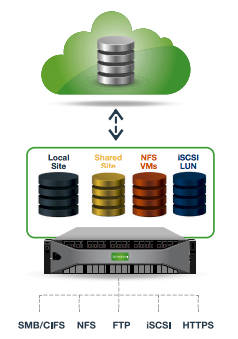 Nasuni filer's local access
Rodriguez says Nasuni now has 6 year's production experience, with 6PB of files under management, 3PB of which arrived in the last 12 months. This move of data to the public cloud is what Rodriguez has been working for. "Rome's burning faster than I thought but slower than I hoped."
It's too early to call out the death of on-premises data though – far, far too early, though Rodriguez admits: "Everyone likes dancing on the devil's grave."
UniFS is actually an object store and what is sent to it from the edge/on-premises Nasuni file are chunks of XML and data, encrypted so neither Nasuni nor the cloud provider can read the content. The Nasuni filer can, by the way, be virtual (SW-only) and run in the cloud.
What occurs to El Reg's elementary brain is that these Nasuni filers, SW-HW boxes or SW-only virtual ones, are systems that collect all changes to a file, pump them up to a central place and then ripple them out to other data centers, where the same files are being accessed. These filers are synchronizing files across locations and also protecting them.
Is it a stretch to think of the Nasuni filer software running as an agent on edge devices, fixed and mobile, and functioning as a protecting file sync and share facility? ®