Get 'em out for the... readers: The Sun scraps its online paywall
Low web traffic prompts rethink from the Murdoch empire
---
Rupert Murdoch's flagship British tabloid, The Sun, is to abandon its paywall in search of greater web traffic as it seeks to compete with big online news hitters such as the Daily Mail.
According to the Guardian, the move was set to be officially announced on Friday and implemented by the end of November.
Back in July 2013, the last time the Sun's web traffic was publicly audited, it had about 30 million unique users per month.
The Guardian claims that the Sun website now reaches about a million readers per day and has already relaxed the paywall on selected stories. Trade news title Press Gazette reports that the News UK-owned website now has about 200,000 paying subscribers.
News UK's chief executive, Rebekah Brooks, said in a company-wide email: "I recently shared with you the future priorities for the company and am excited today to tell you more about our plans for the first of these: growing The Sun's audience. This will mean setting The Sun predominantly free in the digital world from November 30. By happy coincidence, this is also Cyber Monday, one of the best-performing days of the year for online retail."
News UK is Rupert Murdoch's holding company for his British newspapers, which also include The Times and the Sunday Times. The company was rebranded from its old name of News International following the closure of one of Murdoch's other papers, the News of the World, after a series of Guardian front-page stories making not-entirely-truthful claims about missing schoolgirl Milly Dowler's phone being hacked by journalists from the 168-year-old newspaper.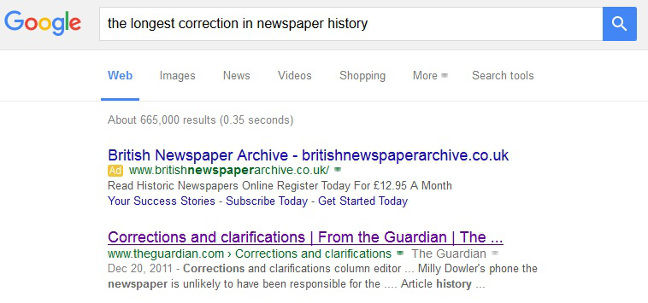 The longest correction in newspaper history. It must be true, Google says so!
Fans of the racy Page 3 feature will probably be disappointed to learn that Lucy from Daventry and her skimpily clad pals will be placed on an entirely separate website. In the interests of accurate reporting, your correspondent visited said website and can confirm that, at the time of writing, you still have to hand over your hard-earned beer tokens to see something you can easily get with 10 seconds spent on Google image search. ®