Huawei mixes it up with Micron and its new NVM tech
3D XPoint adoption looks a given
China-based telecom and enterprise IT supplier Huawei has entered a flash partnership with Micron, which means the Chinese firm will be using Micron flash in its OceanStor storage arrays.
Huawei has an OceanStor range of unified file and block storage arrays plus a separate OceanStor Dorado all-flash array line with two products; the 2100 G2 and the 5100. These Dorados are dual controller systems and have less than 500 microseconds latency.
Details of Huawei's expanded flash strategy are sparse but it says it is introducing its OceanStor flash strategy to Europe with the aim of increasing flash adoption in data centres and heading towards an all-flash situation.
It will be integrating solid-state drives into its storage products sold throughout Europe, following the launch of this initiative in China at the beginning of September. Huawei says these SSDs are equivalent to 15K RPM SAS disk drives in price, so they are not cheap.
Huawei signed its first collaboration agreement under this strategy with Micron at the September 2015 Huawei Cloud Congress in Shanghai. The intent is to produce "innovative technologies to expand the adoption of SSD flash memory in data centres."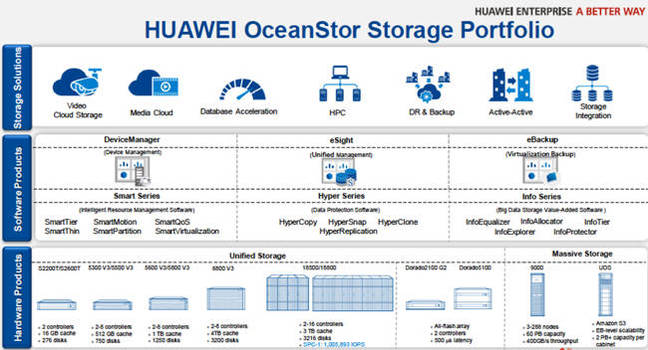 Huawei OceanStor portfolio. Click image to see larger version
A canned quote from Yuan Yaun, CTO of Huawei IT Solutions Sales in Western Europe, said: "The move to integrate flash memory in data storage will deliver optimal user experience and low power consumption. It is well suited to customers' business needs now and in the future, and is a vital tool in addressing the challenges of Big Data."
We usually think of Big Data meaning petabytes of storage, requiring disk as it is the only fast-ish and cost-effective online store currently. Flash for Big Data; are we seeing a hint of 3D NAND here?
Huawei has two storage products suitable for Big Data:
OceanStor 9000 Big Data Storage System

3 - 288 nodes
60PB capacity
400GB/sec throughput

OceanStor UDS Massive Storage System

Amazon S3
Exabyte-level scalability
2PB+ capacity per cabinet
Will SSDs appear in these products?
Yuan talked of the co-operation with Micron as a "shining example of Huawei's long-term commitment to building a sustainable ecosystem for partners within the industry chain, and jointly developing industry-specific product solutions."
He added: "We cannot achieve innovation by ourselves. Everything we have created, obtained, and achieved would not be possible without the joint efforts of our partners and the unflinching trust of our customers."
There is distinctly different verbiage here, the "unflinching trust" of customers, for example. Customers might find dealing with Huawei is different from what they expect.
At Huawei's storage summit on Shenzhen, China, November 3-4, Micron's Director of NAND planning, Kevin Kilbuck, will present on the future of flash storage. A subsequent presentation by Xiaobing Lee, the Chief Architect of Storage Algorithm at Huawei's Hardware Engineering Institute, will discuss a unified memory bus to expand DDR4-DRAM space and to cluster DDR4-SSD and new NVM devices. The talk abstract mentions 3D Xpoint memory.
A panel session will discuss emerging memories and their potential applications.
Intel also has a speaker at the event. Jerry Xu, General Manager of Intel's PRC NVM Solutions Group, will talk about possibilities with innovative non-volatile memory technologies.
Our take on this is that Huawei will move quickly to adopt 3D NAND and 3D XPoint memory. We expect to see new Dorado-brand solid state arrays and, given XPoint is a memory technology, new Huawei servers as well. These new arrays and servers could emerge in 2016. How integrated they might be is an interesting question.
Micron and Intel will possibly be fighting it out to supply Huawei with XPoint chips although Micron looks to be in pole position. ®