This article is more than 1 year old
We turn Sonos PLAY:5 up to 11
Great sound, but it'll cost you
Wi-Fi streaming speaker supplier Sonos has rejigged its high-end PLAY:5 devices to provide what it describes as a dramatically better listening experience to customers accustomed to its PLAY:1 and PLAY:3 products.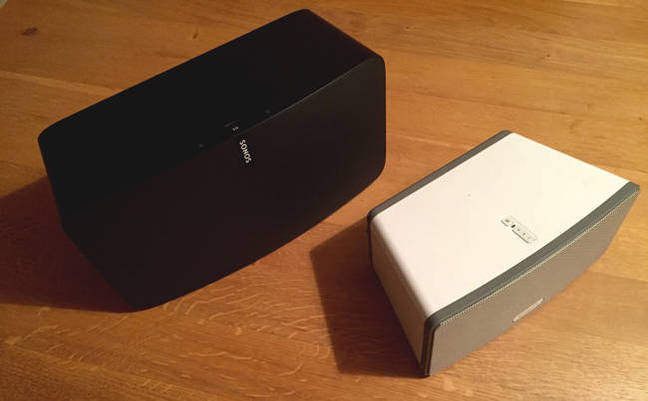 Sonos PLAY:5 (black) and PLAY:3 (white)
Sonos speakers can have internet radio stations streamed to them, as well as play music stored on your smartphone, tablet, notebook or PC. Speakers in different rooms in your house can play different music or radio/streaming sources.
Each unit has a set of speakers and amplifiers inside it and the range can be generally positioned as upscale speakers that are not high-end audiophile quality, or cost; think Mercedes and not Ferrari.
The PLAY:5 has a sealed enclosure and is heavy, weighing just over 14 pounds (6.36kg). It comes in a black or white curve lozenge, roughly similar to the PLAY:3 in style, but around twice as large.
Compared with the previous six-year-old PLAY:5 it has lost a bottom stand section. Instead there are four slightly protruding studs acting as support legs on the bottom and each side surface.
As with other Sonos products it is controlled by a Controller app on your smartphone, tablet or desktop. You plug the speaker in to a power socket, fire up the app and tell it to add a new speaker.
When an indicator light in the top of the PLAY:5 flashes green you depress a button at the rear if the unit, the Controller app sets up a connection, you name a room for the speaker, and a few moments later you're ready to play music through it.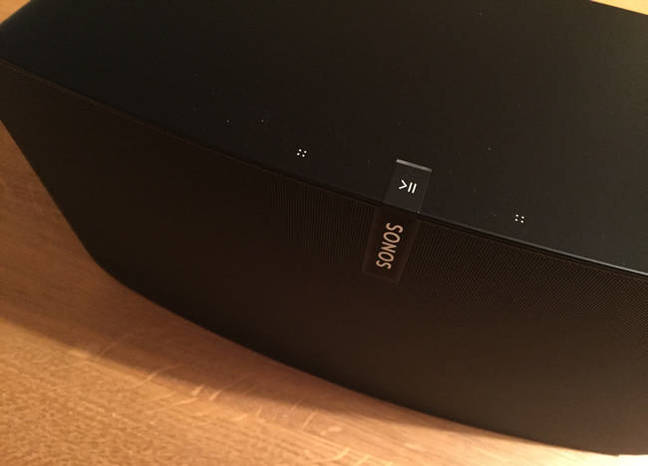 PLAY:5 touch-controls
Instead of having plus and minus volume buttons (plus a mute button) like the PLAY:3, the PLAY:5 has three touch controls, left and right dot squares for raising and lowering the volume, and a central start:stop CD-player style sigil. You can also swipe from left to right or vice versa for going forwards or backwards with album tracks.
The packaging is so nice it seems a shame to throw it away. Starting from the outside, we have:
Two-part box with two sliding orange opening tags to release lid
Plastic bag containing speaker in foam-lined base part of box
Shrink-wrap clear plastic around speaker
Clear plastic strip wrapped around side surfaces of speaker
Cardboard box containing power cord, Ethernet cable and card slip-case for safety info and quickStart guide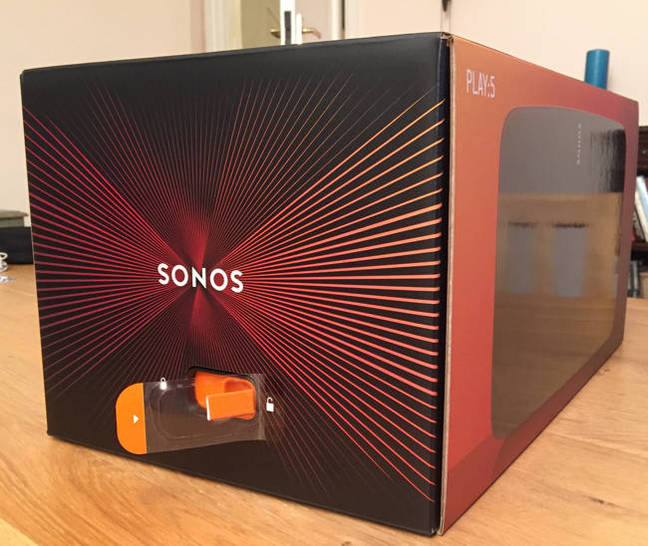 PLAY:5 box
Inside the speaker unit there is one central and two side-pointing tweeters, and three mid-woofers. Each speaker has its own amplifier. They play out music through a plastic grille, called an AudioFoil. The PLAY:5 has six antennas inside for reliable Wi-Fi reception.
We had two units for review and set them up as a stereo pair. Sonos said they can be placed upright for a deeper, more focused sweet spot, or sideways for wider, more shareable sound coverage.
There is an line-in port on the back of the unit for plugging in headphones or a music-playing device with a line-out facility. You'll find an Ethernet port on the back if you need it or prefer it to Wi-Fi connectivity.