Comment Microsoft's changes to its OneDrive personal cloud storage prices reflect badly on the company, and have left users angry and bewildered.
Most people have at least 30GB of free OneDrive storage: 15GB as standard, and an additional 15GB bonus easily obtained by setting the camera roll on a mobile device to use OneDrive for image backup. An additional 100GB was available for $1.99 per month.
The cost of storage continues to fall; but Microsoft has gone against the trend by announcing greatly increased prices. Free storage decreases to 5GB and the 15GB camera roll bonus is discontinued, so typical users will go from 30GB to 5GB for free, a reduction of more than 80 per cent.
Further, the cost of buying extra storage is doubling, with just 50GB available for $1.99 per month.
These changes bite harder for most users than the removal of unlimited storage for Office 365 customers, now replaced with a 1TB limit.
Microsoft states that the reason for the price hike is "a small number of users" who apparently used up to 75TB on the Office 365 unlimited plan. That is exactly what you would expect if you offer unlimited storage. A onedrive.com blog post lets slip that this 75TB is "14,000 times the average", so not a common occurrence.
Nor is it clear why a few busy Office 365 customers necessitate such severe changes to the free offering for users in general.
When Microsoft released Office 2013, it believed so strongly in cloud storage that it changed the default document save location to cloud storage. You have to check "Save to Computer by default" to override it. In addition, Microsoft built OneDrive support into the Windows 8 file system, so that it recognized the possibility of cloud-stored files being offline.
Windows 10 applications such as Photos and Groove Music also tie into OneDrive. The Photos app is a good way to show slideshows of pictures taken on your phone. The Music app lets you play media stored in OneDrive, with selective download for offline use on mobile devices.
In other words, Microsoft deliberately pushed users towards OneDrive, encouraging them to embrace the new world of "cloud and mobile."
Now here comes this sudden and drastic price increase, which looks like a classic maneuver to tempt users in with free stuff and hoist the cost once they are hooked.
Users have taken to the official OneDrive feedback site to register their discontent, with an appeal to "give us back our free storage" attracting more than 5,000 votes and 250 comments in one day.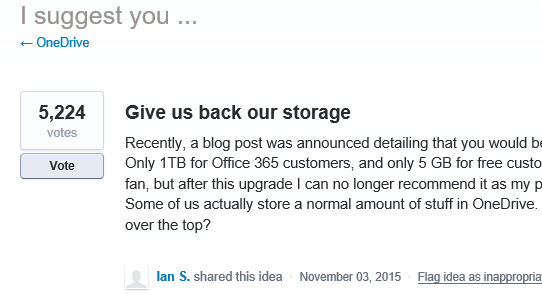 OneDrive petition: Give us back our storage
The storage change was the worst decision I've seen out of Microsoft in years. I'm just dumbfounded. A cloud services company must inspire trust above all else, and this move undermines it.
...says one of the milder comments.
The feedback is on target, because it is trust that is at stake here; and without customer trust no cloud provider can succeed.
Changing OneDrive limits may seem a small thing, but it is a risky move for a company that is addressing declining Windows sales by investing in cloud services.
Time for a rethink, Microsoft? ®