This article is more than 1 year old
Spanish town trumpets 'Clitoris Festival' thanks to Google snafu
Typical local delicacy a lip-smacking prospect
A Spanish town got lips smacking in anticipation last week after the municipal website announced a forthcoming "Clitoris Festival".
The powers that be in As Pontes, Galicia, had intended to trumpet the annual Feira do grelo, or "Rapini Festival", in honour of the leafy delicacy.
However, while the original description in local lingo galego (Galician) was perfectly innocent, by the time Google had its evil linguistic way in providing a Castillian Spanish translation, it had rendered grelo as clítoris.
"The clitoris is one of the typical products of Galician cuisine," delighted punters were informed.
The reason for the outrage is that grelo is also a Portuguese slang word for a lady's love button. Council spokeswoman Monserrat García told The Local: "Google translate recognized our Galician word grelo as Portuguese and translated into the Spanish clítoris."
The mistake is understandable, given that Galician and Portuguese are closely related. However, García is determined to nip further slips of the tongue in the bud. She said: "It's a very serious error on the part of Google and we are thinking about making an official complaint for Google to properly recognize the Galician language* so this kind of thing doesn't happen again."
As Pontes' Rapini Festival takes place during Carnival, which next year falls in early February, if you fancy nipping down and nibbling on some mouthwatering grelo.
Bootnote
*Google Translate does offer a Galician option, and it looks like it's cleaned up its act regarding grelo. Here is it rendered from Galician into Spanish, and from Portuguese into Spanish, giving the translations "tiller" (as in ship's tiller) and "shoot" (as in plant shoot), respectively: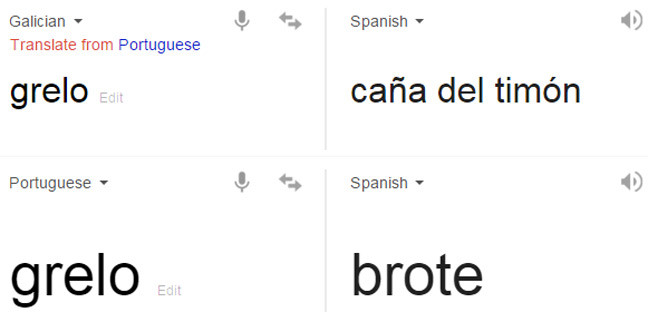 Since Galician grelo is grelo (or los grelos) in Spanish, we're none the wiser as to where the tiller comes in. We can see how the Portuguese might have given "shoot" a more intimate female meaning, though.