This article is more than 1 year old
Opera Jon's sparkling Vivaldi proves the browser isn't dead
What Mr (von) T did next: A better way of viewing funny cat pictures
The new browser by Opera founder and ex-CEO Jon von Tetzchner is available as a beta today, after ten months in preview. You can grab it for Windows, Mac and Linux – and he's promised that a mobile version will follow.
The pioneering Norwegian company he founded laid off hundreds of browser developers, as it began to focus on mobile advertising. When he parted company, 750 were employed – most of whom worked on the browser.
Opera is bigger today, but a much smaller proportion work on the browser, which is a skin around Chromium for desktop users. "Opera Jon" recruited several crack engineers to build a browser with the key characteristics of the much-loved Opera: flexibility for power users, and speed.
And a mobile version is on the roadmap, von Tetzchner told us today.
Vivaldi looked promising when it was released to the world in February. Now it's made good on those promises, adding mature features like full extension support, and many of the features Opera power users took for granted. Von Tetzchner is funding the venture himself. It's not only adopting the Opera ethos, but also its business model. He's confident that with a few million users the search and affiliate fees will pay for the development team.
No other browsers give users quite as much choice, says Von Tetzchner. Opera took great pride in the user experience, at a time when the competition was self-absorbed (Mozilla) and had given up (Microsoft).
"If somebody did something better than us, we regarded that as a bug," he notes. "If they were faster, for example. We had to be the fastest."
Opera created many features copied by rivals, and now taken for granted: tabbed browsing,a speed dial, mouse gestures, and user defined search engines. It was also far-sighted; Opera introduced a distributed P2P computing platform via Opera Unite. Not everyone was a fan – Ted Dziuba said Opera had "re-invented irrelevance", but today it would be recognised as a platform for the Internet of Things.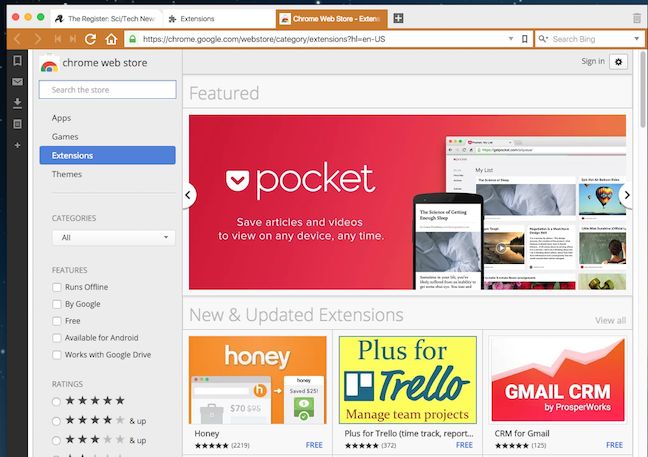 The Vivaldi browser now supports extensions.
Von Tetzchner welcomed Microsoft starting afresh with its primitive Edge browser, as it's a sign of "investing and taking the browser seriously" after years of neglect. Opera had years of run-ins with Microsoft, including a notorious incident when Microsoft's MSN portal returned alternative non-functioning code back if it detected "Opera" in the browser string. Opera retaliated with the Muppets' Swedish Chef.
Von Tetzchner thinks the web is still in its infancy, and is still a big believer in distributed P2P, something Unite pioneered. He's cautious about the major platforms dominating areas that were once the preserve of open standards. For example, he points out Facebook now charges businesses to contact their customers – something they can do for free using email.
You can download the "browser for our friends" here.