Huawei is updating its dual-controller OceanStor Dorado all-flash array by adding NVMe-accessed SSDs, reportedly boosting IOPS performance by up to 30 per cent.
A demonstration system was exhibited at its Shenzhen storage summit and we managed to glean some information from the lid-off hardware with its labels, rolling slide-set, and display literature. The hardware was not, by the way, switched on.
The array is powered by an Intel Broadwell CPU and has DDR4 memory DIMMs.
There are up to 25 dual-port PCie-connected ES3xxx SSDs, Huawei's own design, with the NVMe interface. The SSDs have either 1.6TB or 3.2TB of capacity, using MLC flash chips from either Micron or Toshiba. The maximum capacity is 80TB with 3.2TB SSDs or 40TB with 1.6TB SSDs.
Huawei has created its own PCIe controller for this array, demonstrating its intent to, and capability for, create its own IP rather than using third-party controllers and SSDs by default. This controller is an Hi1812 chip, a Huawei ASIC. which has a dual-port PCIe (NVMe) interface and can use SLC, MLC or TLC flash, it being programmable, as well as having ECC and RAID.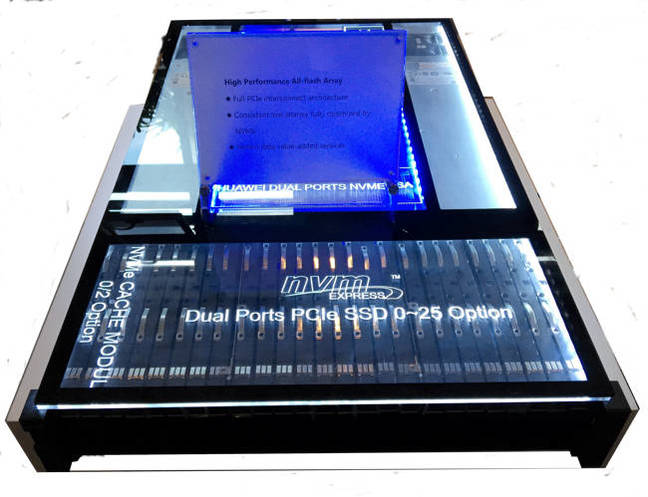 Front lid-off view of upgraded Dorado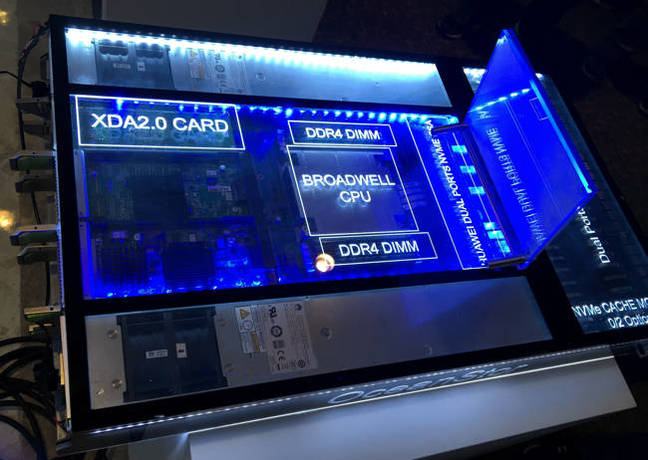 Side view of same Dorado enclosure showing labelled components
The Dorado system can scale up to 25 SSDs and can also scale out.
The array is fitted with an XDA card, rev 2.0, which has a million IOPS compression and hashing capability. It supports different areas' encryption requirements. We think this is Huawei's own, in-house developed card.
There are up to two cache module cards, with 1.6TB capacity. This Dorado has a stateless architecture, the cache module not being located on the controller.
It supports seamless software and hardware upgrades, including controller upgrades without impacting the array's operation. The array has hot-plug components for easier maintenance.
There are dual-port NVMe interfaces, providing Huawei says, excellent performance. It says its own algorithms enable this Dorado to have higher availability than competing systems. Media reliability is increased by the system using Huawei's patented variable length RAID algorithm.
There are atomic writes to improve database performance and efficiency. Huawei says SR-IOV can help virtualised services to get the best hardware performance from the array.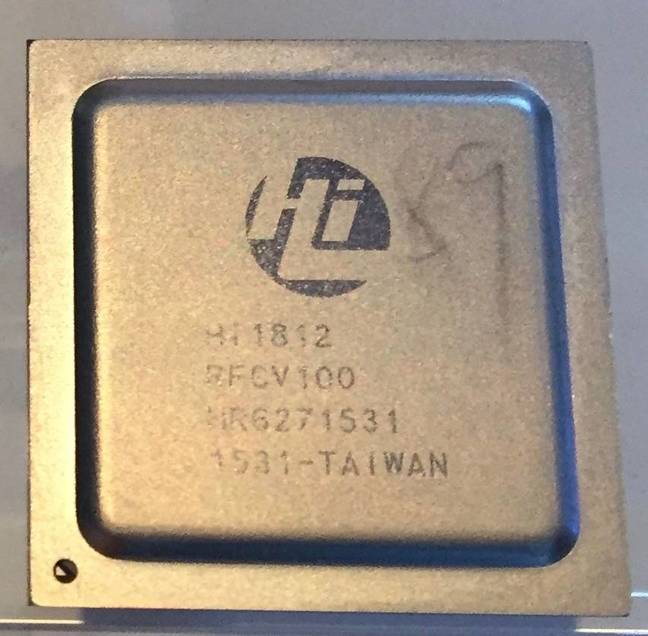 Huawei's NVMe PCIe flash controller ASIC
A performance comparison with EMC's XtremIO array shows:
XtremIO exhibits one million IOPS in 23U while the NVMe Dorado has one million IOPS in 4U – a 5x improvement in rack space density for same performance
The XtremIO latency of 1,000 microsecs is reduced to 200 microsecs by the Dorado; another 5x improvement
The XtremIO array has 3.6 kW/M IOPS while the Dorado has 1.8 kW/M IOPS; a 2x improvement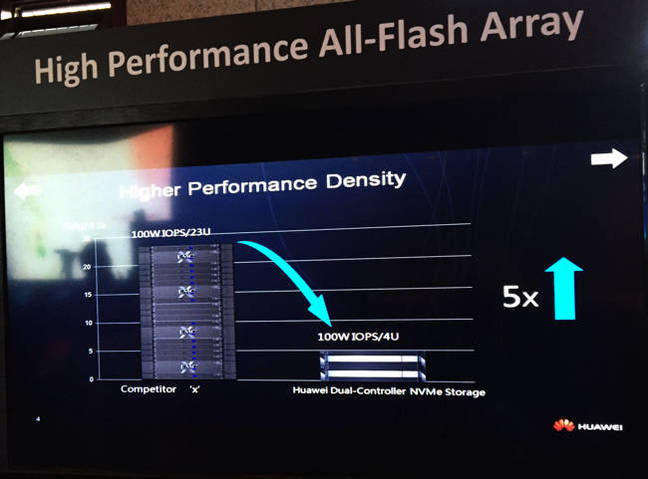 EMC Xtremio vs Dorado NVMe array performance. The term "100W IOPS" means one million IOPS and the Huawei array does it in a fifth of the space needed by XtremIO
We should note that Huawei has a Flash First strategy and is intent on replacing disk drives with equivalent capacity and price SSDs. Currently it is doing this at the 15K SAS disk level. As flash capacity increases and $/MB falls it will move on to the 10K disk drive level and intends/hopes to eventually arrive at the 7.2K disk drive point of SSD capacity and price equivalence.
Returning to the next-generation Dorado there is, as yet, no data sheet and specification or formal announcement documentation, which explains why the information we have is patchy, and lacks model number, pricing information, etc. We can't even confirm Dorado branding; it might be called a VPARS system.
Whatever it's called, the array should be available in the first half of 2016. ®
Similar topics