This article is more than 1 year old
Slow connections can't come fast enough as industry eyes low bandwidth
LTE-NB has been designed with much lower power use in mind
The slow decline of M2M
And money is an issue, because while the costs of supporting a user (typically a couple of quid a month) with backend systems is fine when you are charging a person for use of the phone, with the IoT looking at having thousands of devices per cell (each spending very, very little) this whole system needs a new business model.
Ibbetson called on companies which could offer new ways of making money in the IoT to come forward, and one of the themes of the Huawei event was the need to run developer events to find new business models.
While the new, slow 4G is a little way off, Vodafone is still making good money out of machine-to-machine tech, with the division which looks after such things managing 20 million SIMs, run all over the world.
This needs 100 per cent up time; you can't bring down a server in the middle of the night when it's got connected devices in parts of the world where it's the middle of the business day.
It's not just Vodafone which is holding out for narrowband. Hu said that Huawei has done a very successful trial of LTE-NB with Deutsche Telekom, and he sees huge k'ching opportunities for operators.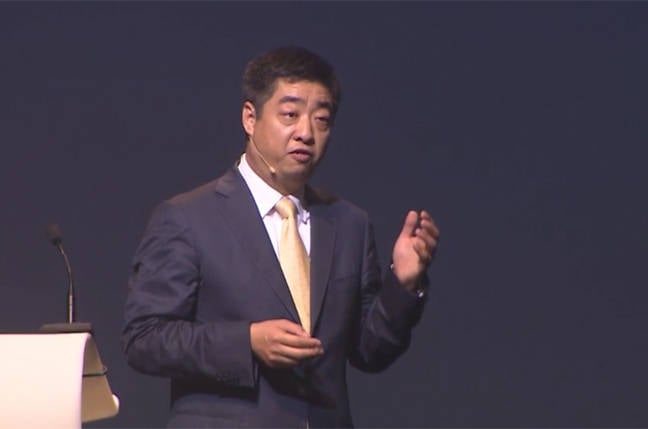 Huawei CEO Ken Hu said his company has done
a very successful trial of LTE-NB with Deutsche Telekom
Something which will drive the need for LTE-NB is the death of 2G. Machine-to-machine has been around for a very long time and lots of devices send data by GSM text message. With the operators looking to reallocate their GSM, and 3G frequencies, they will want something 4G for those applications to use.
In general, it's likely that 3G will be switched off first – although it will depend on the network, its customer base, technologies and frequencies. There are many variables.
Eros Spadotto, executive veep of technology strategy and operations at Canadian operator Telus, said that its CDMA and EVDO networks, which are of the same generation as GSM, will be switched off in 2017.
David Wang, president of the Huawei Product Line, sees a slow decline as networks switch their spectrum from old technologies to 4G, maintaining a bare bones service until the legacy machine-to-machine can be moved to something new.
That slow decline will see networks start to be switched off in 2020. So, if you're still using a Nokia 6310 perhaps it's time to start thinking about getting a new phone. ®