Behold, Android has a new software stack
BlackBerry could have basted Android in a very heavy skin, in an attempt to make the turkey look like one of its traditional BBOS devices. But necessity, and perhaps time constraints, obliged them to take a different route. BlackBerry has also said it wants to make the experience a familiar one for Android users.
So BlackBerry took stock Android and ported over their own "Experience Suite", which back in March it announced it would port to Android and iOS. Most of the semantics of "stock" remain intact.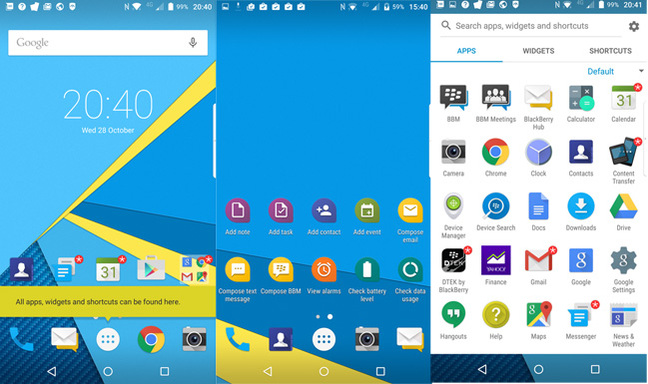 The Suite includes a message aggregator – the Hub – a virtual keyboard, the aforementioned Universal Search, and some PIM apps: Calendar, Tasks and Notes. Along with a lightweight launcher. It might not sound like much, but these things matter a lot. On BB10, the Hub is a permanent "underlay" – viewable with one gesture, and the same gesture drops you back to where you were. The marketing department calls this "peeking".
Not being able to control the platform, BlackBerry had to do the best it can to replicate the experience. What the Android BlackBerry Hub is, is a really rich email client, with integrated calendar, that also aggregates Notifications from social networks like Facebook and Twitter. (The big ones, but not all.) Appointments appear at the top of this message list.
I was delighted to find that the Hub is also a calendar server: Microsoft users who've been stiffed by the company's appalling recent Android software will take heart here: I could use all my Outlook calendars (and Exchange groups) without needing Microsoft Outlook.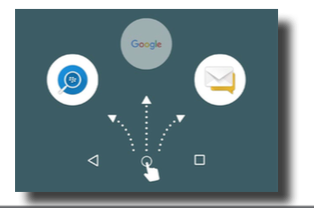 BlackBerry allow you to launch the Hub or Search from anywhere
The BlackBerry launcher is deliberately designed to resemble stock, with very few deviations. One addition is that home screen app icons can invoke one of their widgets with a swipe over the icon – they advertise that capability with the three dots. I found this cut down on clutter, and the number of home screens I needed.
The virtual keyboard is the first thing you'll notice. It's a straight port of the BB10 VKB. While I rate the Windows Phone VKB highly – it has a singular genius for untangling wordsthathaverunintoeachother – the BlackBerry virtual keyboard is in a class of its own. It has a gimmick – which you can take or leave – where word suggestions appear over a phonetically similar letter, and these floating word suggestions can then be flicked up. But I find the VKB more useful for the flick down gesture (which cycles through alternative keyboard layouts) and the backswipe-to-delete gesture, which few others have implemented (Fleksy is one). The downward swipe integrates nicely with the physical keyboard, and you can use the same gesture there to provide alternative characters. It sounds complicated, but its easier to use than describe.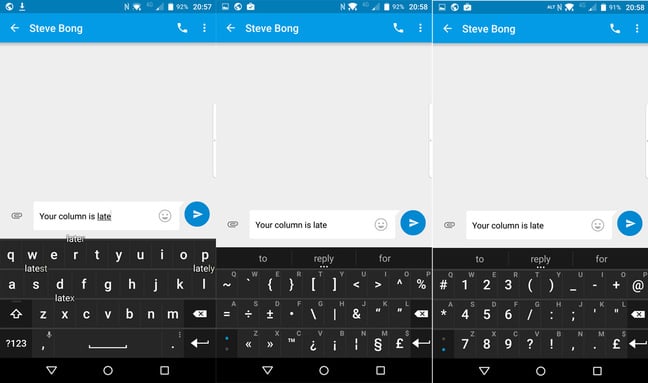 BlackBerry doesn't indulge in shipping a heavyweight launcher, instead it mostly follows the Android conventions. It hooks into the default Android "Now" gesture invoking either Universal Search or the Hub. And the hub, a glorified email client and notification aggregator, is really the star of the show.