Into the Hub
The Hub has some nice surprises in store. You can "snooze" an email for later action; the action is triggered by arriving at a particular location, logging onto a particular network connection, or after a given time delay. In practice I found this quite handy for bunching up work emails (for the commute in) and personal emails (for the commute home).
It seems so obvious to give a user this kind of reminder, you wonder why nobody's done it before. But then we are in the Noddy Era of consumer software. The Hub's email filtering is also much richer than on rivals.
BlackBerry's also included its own Calendar here and as already noted, it acts as a calendar server too. A calendar set up through the Hub will be viewable through third party apps, like DigiCal.
More rudimentary is the Tasks app. It taps into your Exchange tasks without you having to set it up discretely, but it doesn't respect Exchange folders, simply dumping stuff in a list. The intention is good, but we're talking 0.9 level implementation here. Hopefully it will improve to the level of its BB10 equivalent which respects Exchange folders and Evernote notebooks. On BB10, the hub is this constantly updating, but manageable, events list. I don't doubt BlackBerry wants to achieve this on Android.
Despite the rough edges, it bears contrast with Microsoft's costly and ill-judged catch-up spending spree. Microsoft has spent half a billion dollars acquiring companies only to offer just a fraction of the BlackBerry suite's functionality. If you're a Microsoft shop that never touches BlackBerry, you should be hopeful that somebody is providing competition and choice on Microsoft's home turf, a customer base that Redmond doesn't seem to value any more.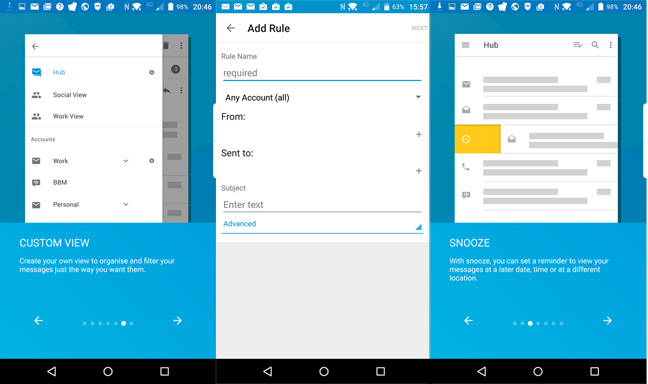 Rules: You can define how the Hub app functions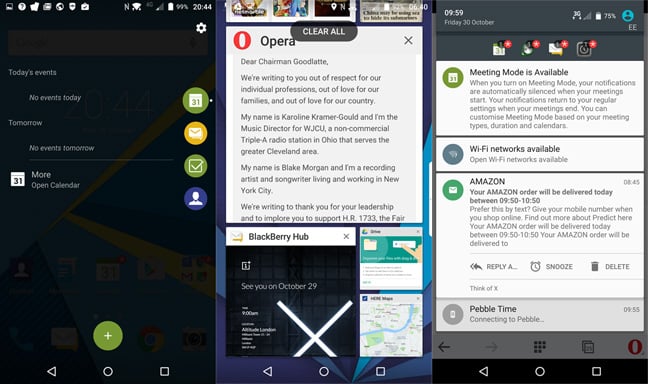 Left: an edge swipe starts the 'Productivity Bar', an overlay
Center: the App Switcher resembles BB10's task switcher: swipe sideways to clear the app from the list
Right: Many Android notifications still squirt out uncontrollably
BB10 users might consider the whole BlackBerry-on-Android move a regressive one: the Hub doesn't tame Android's Notification diarrhea. Android has always been an annoyingly chatty and fussy personal companion, and even on the Priv, its notifications still spurt out. It's weird; Google is supposed to be the "information company" ne plus ultra of the "information age", but Google is remarkably indiscriminate in what it Hoovers up, and equally indiscriminate in what it spits back out at you.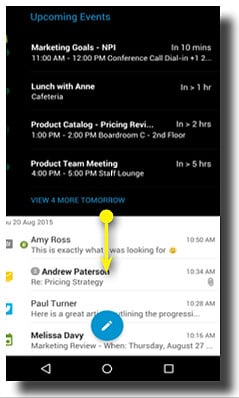 The Hub app, with integrated Calendar events
Ideally this would disappear, and the Android pull-down shade would be a handy shortcuts pull down, much as BB10's is, and Apple's little popup is. Another way it isn't integrated is finding that the Hub may throw you out to another application (BlackBerry's SMS app) for responses. Again, BB10 loyalists won't find this as smooth as BB10. But for almost everyone else – more than 99 per cent of the market – BlackBerry's Android Hub is a smashing convenience.
Priv brings over BlackBerry's picture password unlock, and has a rudimentary app called DTEK, which is similar to the diagnostics you find on Chinese 'droids. It will monitor apps performing permission overrides, and which apps accessed which permissions. It'll also remind you if you haven't set a password lock. But not much more. I expect with Android M, DTEK will be much more capable. The Priv runs Lollipop 5.1.1.
And the verdict is...
It may be a "Hail Mary" pass, but BlackBerry's arrival on Android adds bags of choice and maturity to the platform – not just for enterprises but more sophisticated punters.
Snapdragon 808 Hexa-Core, 64 bit; 3GB RAM; 32GB storage + MicroSD Slot taking cards up to 2TB Curved 5.43", 540 DPI,2560 x 1440 resolution 18MP rear/2MP front camera 3410 mAh battery 147mm (184mm open) x 77.2mm x 9.4mm; 192g
Similar topics