This article is more than 1 year old
How much do containers thrash VMs in power usage? Thiiiis much
When process sandboxes talk, electricity meters scarcely need to listen
Ericsson researcher Roberto Morabito has compared the power consumption requirements of virtual machines and containers, and found the latter more economical.
Power Consumption of Virtualization Technologies: an Empirical Investigation put Xen, KVM, Docker and LXC through their paces on a series of tasks and measured how many watts they sucked along the way.
In tests on Linux machines, Morabito found that the four sets of code produced similar results when asked to perform computational tasks. Things got interesting when measuring VMs and containers while they were sending and receiving TCP traffic, as containers did rather better under that load.
"This is mainly due to the fact that the network packets have to be processed by extra layers in a hypervisor environment in comparison to a container environment," Morabito suggests.
The findings are likely to interest hyperscale IT operations, as power costs are one of such outfits' biggest expenditures. They may also raise a few eyebrows among those considering running containers inside virtual machines, an arrangement suggested as a way to bring manageability to containers but also one this study suggests may load some extra power costs onto users. ®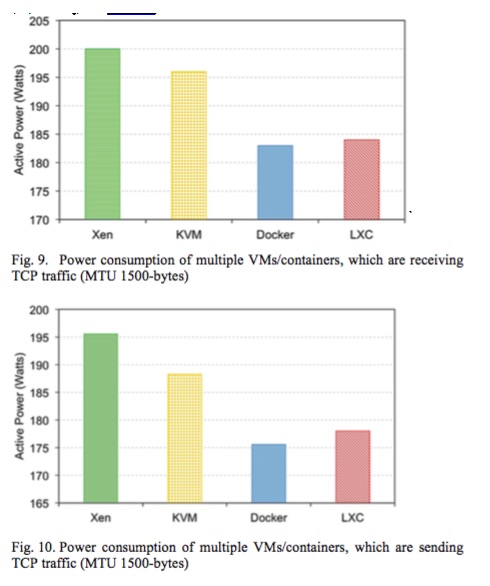 Let's toss these results into the Container vs. VM debate, shall we?