Part I Huawei is China's Cisco or Sweden's Ericsson without the storage hangups that affect the US networking giant. It's a $46.5bn colossus with 170,000 employees, privately-owned by its Chinese national employees, with no venture capital investment and three rotating CEOs. This is most assuredly not your average IT corporation.
Okay, why should you be interested? It's nowhere in storage in the USA.
In a Gartner report on the year-over-year revenue share growth in the global external storage market in the second 2015 quarter, the fastest growing company was Huawei. Much as everyone would expect, the top US storage companies companies all showed negative growth, HP was flat, and Fujitsu declined as well.
Everyone said legacy arrays were declining because of all-flash arrays, newer hybrid arrays, hyper-converged storage and the public cloud. Yet despite these forces Huawei sales grew, and grew a lot.
Look at this chart:
The USA could be 40 per cent or more of the world-wide storage market. Yet despite its absence from the US, Huawei grew strongly when all the others failed. All the other storage suppliers face a formidable opponent when they compete for sales outside of the USA.
Who is Huawei?
This top two global telecommunications supplier is ambitious, hungry, confident* and not bedevilled in its investment plans by the timescale-shortening, quarterly results cycle-affected, US publicly-owned businesses. Huawei can make big, 10-year bets, and is, specifically about becoming a vertically integrated enterprise IT supplier with deep IP in hardware and software.
We're gonna take a 3-part look at this Chinese dragon, where it came from and how, its character – because that is part of what makes it unique – its product set, and where it's going.
Fasten your metaphorical seat-belt and read on…
Going native
Huawei is a familiar name to telecommunications equipment buyers, but much less so to business IT buyers and is even more unfamiliar to storage buyers. Being taken to its Shenzhen HQ and Chengdu storage R&D centre was great fun but it's all strange and new, so much so that standard Register snarkiness may not be much in evidence here.
If it seems I've gone native, or I'm giving these guys a soft ride, send in commentard corrective fluid so I can wash my mouth out.
That said, let's get introduced to one of the strangest storage companies on the planet.
Early days
Huawei was founded in Shenzhen in 1987 by Ren Zhengfei to resell telecommunications equipment and help start the installation of telecommunications in China country-wide. It did not focus mainly on the major cities. It was also not a State-Owned Enterprise (SOE), being private from the start and having to be self-reliant, it says, and not subsidised by state handouts and favours which SOEs enjoyed.
Ren was an official in the People's Liberation Army involved in communications engineering. The company was located in Shenzhen, in the Pearl River delta, because it was in a special economic zone with rules and regulations relaxed from those elsewhere in China so as to encourage entrepreneurial activity. That state strategy has been hugely successful, with the population growing from c10,000 to past 20m in 25 years or so. People flocked to Shenzhen from all over China because the career and quality of life prospects are so good.
Over 80 per cent of the people here were born elsewhere in China. The older ones and the young ones' parents remember the Great Famine, so Shenzhen is like being in boom-time California in the decades after the US dust bowl disaster.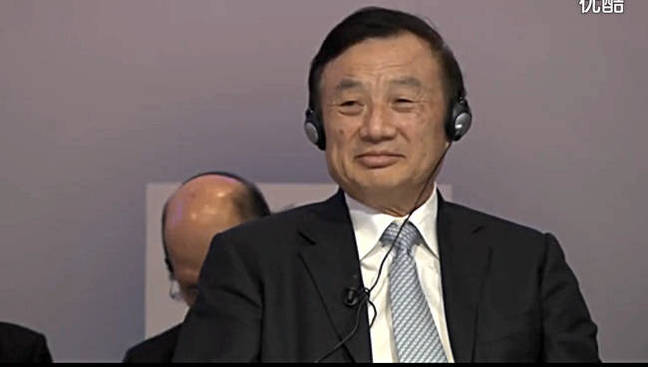 Ren Zhengfei at Davos Forum. Click image to play the video. Go to 2 min 20 sec point to miss some intro blurb.
His Huawei bio states: "Mr. Ren retired from the army in 1983 when the Chinese government disbanded the entire Engineering Corps. He then worked in the logistics service base of the Shenzhen South Sea Oil Corporation. As he was dissatisfied with his job, he decided to establish Huawei with a capital of CNY21,000 in 1987. He became the CEO of Huawei in 1988 and has held the title ever since."
Although Huawei now has three rotating CEOs the de facto guiding light of Huawei would still seem to be Ren Zhengfei who is revered within the company. He is officially the deputy chairman.
You can't understate Ren's influence in Huawei's corporate culture. Here is a sample of his thinking from a lengthy letter of his, on Huawei's web site (PDF).
Huawei is like a big tortoise. In the past 25 years, we have crawled along, not seeing the flowers on the road. …

We must stay focused. We are a company with limited capabilities and resources. We can only catch up with or surpass US companies within limited areas. A force applied over a smaller surface area can get us larger pressure, and then breakthroughs would be possible.

The Strategy & Development Committee proposed the idea of surpassing US companies and enjoying the ride, and I guess maybe that's because they are confident in our profitability in the next few years and want to invest more in the strategic areas.

However, we can possibly surpass US companies only when our area of focus is as big as the tip of a needle. If we enlarge the focus area to the size of the head of a match or the end of a stick, surpassing US companies will be out of the question….

We must avoid innovating blindly. If there is cry for innovation everywhere, that will be a death song for us…

Many people are amazed when they hear us sing the song Huawei People. They wonder why so many people are still singing such a song in such an age. At Huawei we still have a nucleus of several thousand people. United together, they rally and lead the rest of 150,000 employees. We will definitely win.
Sounds a bit creepy to our ears.
Having been founded to trade imported switches, Huawei proceeded to reverse-engineer switches, built its own, sold them and improved them, and grew as China's consumption of telecommunications, both fixed-line and wireless, grew.
Early on, Huawei ran into financing difficulties. Instead of going to venture capitalists or banks, Ren sold shares to Huawei employees and turned Huawei into an employee-owned and funded company. He currently owns less than 1.5 per cent of the shares. Only Chinese nationals can own shares, which means ownership is spread across 90,000 or so employees.
It is a privately-owned collective as much as it is a functioning company.
Business results
Based on revenue, Huawei ranked 285th in the Global Fortune 500 in 2013. In 2014 its revenue reached the $46.5bn level and it is growing at a double digit percentage clip. It expects to reach $56bn this year, a 20 per cent growth rate.
In storage it leads the Chinese market revenue-wise and IDC said it was number one worldwide in terms of storage revenue growth during the Q1-Q3 2014 period. In 2014 storage revenues reached $534m, up 55.6 per cent on 2013, and with more than 4,000 customers.
We could class Huawei globally as a potentially equivalent storage supplier to Dell, EMC, HDS, HP and IBM, with a roughly equivalent set of hardware platforms, minus tape.
These storage platforms are worth a look because how they are developed with Huawei's own technology gives a clue to its future, and to its business strategy. The Huawei way, like the old HP way, is its secret sauce, or better, its engine, and that's what we'll look at in the second part of this Huawei look-see. ®
Similar topics