Windows 10: Major update on the Threshold as build 10586 hits Insiders
Coming soon to a mobile and Xbox One near you
---
Microsoft has released Build 10586 of Windows 10 to "Windows Insider" previewers, as the first major update to the operating system nears release.
This build bears all the signs of a RTM (Release to Manufacturing) release, if the Insider rollout is successful.
The build number does not show on the desktop, and in Windows Update it is called "th2_release Professional". The abbreviation is short for Threshold 2, this being the codename for Windows 10.
You can think of Threshold 2 as being a fixed version of the initial release. A future release codenamed Redstone is rumoured to be coming late in 2016, with more far-reaching changes, though thanks to Microsoft's adoption of the "Windows as a service" model it may still be called Windows 10.
During the installation, messages appeared on the screen assuring me that "All your files are exactly where you left them" (a puzzling assurance) and "We've got some new features to get excited about."
This second message is presumably addressed at those upgrading from the first Windows 10 release, since there is little new since build 10565 last month.
There are apparently a few fixes, including an end to black tab previews in Edge, Windows no longer forgetting how you login, and "more reliable" downloads from the Windows Store.
Lack of new features in this build does not mean little is happening on the Windows front. Windows 10 Mobile is still in preview, and Threshold 2 may be the moment when Windows 10 is fully released on both PC and mobile, a big moment for Microsoft though somewhat soured by the negative vibes towards Windows Phone coming out of Redmond.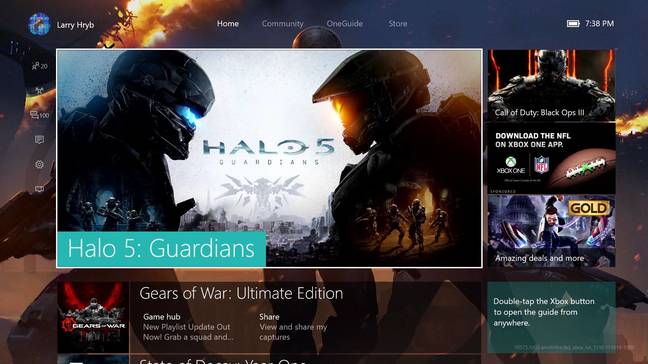 The new Xbox Experience is powered by Windows 10
Another key development is the launch of the "New Xbox Experience" on 12 November, which Microsoft has said will be "powered by Windows 10". The core of Threshold 2 will likely be in the Xbox One build.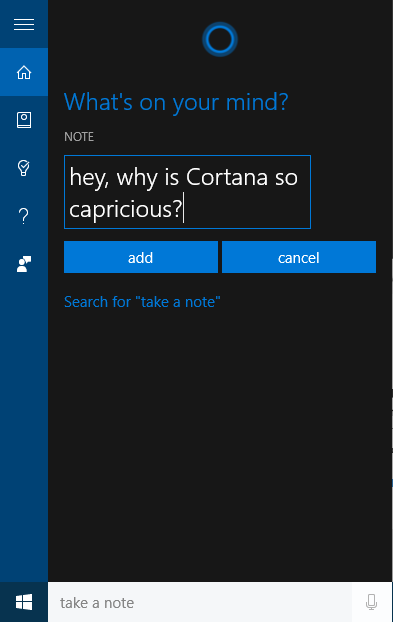 Take a note in Cortana ... when it works
On the business side, the recent launch of the Windows Store for Business is big news, since it makes it possible to manage and deploy UWP (Universal Windows Platform) applications in a sane manner for the first time, with options like bulk license purchases, assigning apps to individuals, reclaiming licenses when an employee leaves or moves to another role, and publishing internal applications to the Windows Store without making them generally available.
New features in Threshold 2, though not new in this build, include a fix for the notorious Start menu bug (where application shortcuts simply do not appear if you have too many installed) as well as improvements to the Edge browser, including tab previews and favourite synching, Skype integration, enhancements to the Cortana digital assistant, and some new icons.
Build 10586 installed smoothly on our test tablet, though trying new Cortana features was a disappointment. Typing or saying "play <track stored in OneDrive>" is meant to play that track, but for me it just uselessly searched the web.
The command "Take a note" is meant to let you use OneNote through the Cortana panel, but on the first attempt this also searched the web. Later it settled down and the feature worked fine, but clearly Microsoft still has work to do getting Cortana to perform reliably, and even its own public demos do not always work.
More positively, recent Windows 10 builds do feel smoother and more polished than the first release. Those who normally wait for the first service pack before installing a new version of Windows might want to give it a try. ®