Imation results drenched in red as exiting consumer biz cuts deep
'Restructuring alone' won't be enough – interim CEO
+Comment Global data storage company Imation is on the accountant's operating table and diseased flesh is being slowly cut away. Its third quarter results are dominated by red ink, with a $152m loss, 148 per cent worse (yes, worse) than a year ago.
Revenues for the quarter were $129.2m, 26.2 per cent less than the year-ago quarter's $175m, and 14.2 per cent down on the second 2015 quarter's $150.6m. The revenue decline is accelerating.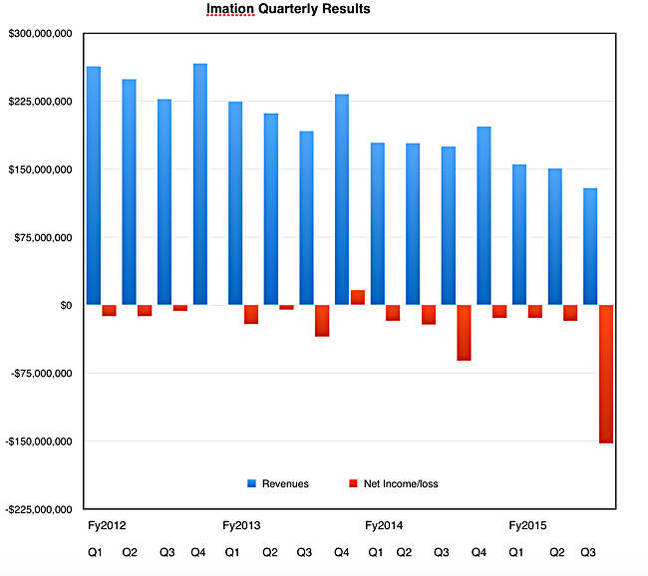 Costs were incurred by Imation's decision to "terminate certain sales and operations of its worldwide Consumer Storage and Accessories (CSA) business, and further reduce and rationalise its corporate overhead" ... getting out of the consumer business in other words.
Looking at the component business units' revenues:
Consumer Storage and Accessories declined 26.3 per cent due to the ongoing fall in sales of optical media products, coupled with negative foreign currency impacts
TSS declined 26.0 per cent:

Commercial Storage Media revenue decreased 32.6 per cent as the magnetic tape business carried on downhill
Tiered Storage and Security Solutions revenue declined by 13.6 per cent due to softer sales and negative foreign currency impacts
Foreign currency exchange rates negatively impacted total Q3 2015 revenues by 7.2 per cent, compared with Q3 2014.
A new direction has been set by Imation buying Geoff Barrall's Connected Data startup and integrating its Transporter private cloud-based file sharing into the TSS Nexsan arrays.
Interim CEO Bob Fernandez was quoted as saying that "restructuring alone will not achieve long-term valuation creation ... our board has determined that the best use of Imation's excess cash involves considering strategic acquisition opportunities to diversify our business activities, including opportunities that may be outside the company's historical focus".
Mmmm, very interesting.
The cash saved from exiting the CSA business will be re-invested in the TSS unit. Fernandez also said that we "will continue to explore potential strategic alternatives, including divesting non-core and non-operating assets, in addition to aligning the incentives of the company's management team with those of our shareholders".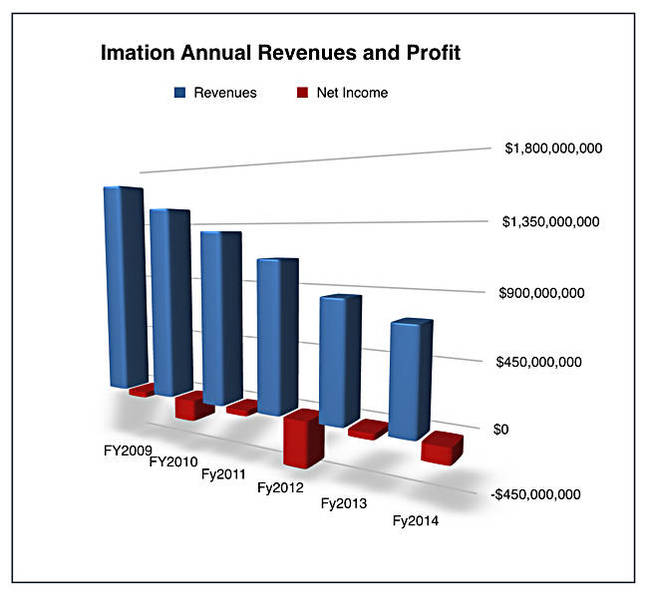 +Comment
The full-year results are going to be, we can say with a fair degree of confidence, the worst in Imation's history, probably dropping below $450m. There's a bit more bleeding to be done yet. ®