This article is more than 1 year old
Teradata's troubles cause the restructuring knives to slip out
Revenues are down by nearly 10 per cent
Teradata revenues dropped again in its third quarter and the company has decided to get serious abut the situation and walk away from the marketing applications business.
Revenues of $606m for the data and analytics company were nine per cent lower than a year ago and three per cent less than the previous quarter. There was a profit of $78m, much better than last quarter's sudden honking loss of $265m, but still 17 per cent less than the year-ago quarter.
The two component business segments performance looked like this:
Data and analytics brought in $557m, compared to $614m last year; a 10 per cent fall
Marketing applications saw $49m revenue, down on the $53m a year ago; 8 per cent less
Teradata's results have been going south for four quarters now, and CEO Mike Koehler has decided enough is enough.
"We … are taking actions to increase shareholder value [and] making transformative changes to the company for longer term success, and are also aligning our cost structure for near term improvement," he said in a canned statement.
What does that mean? In an almost comical couple of sentences his prepped quote said: "Our Marketing Applications team has made great progress this year, and has market leading solutions … We are therefore selling our Marketing Applications business."
He's having the company take action on the remaining business too: "We are launching key transformation initiatives to better align our Data and Analytics solutions and services with the evolving marketplace and to meet the needs of the new Teradata going forward."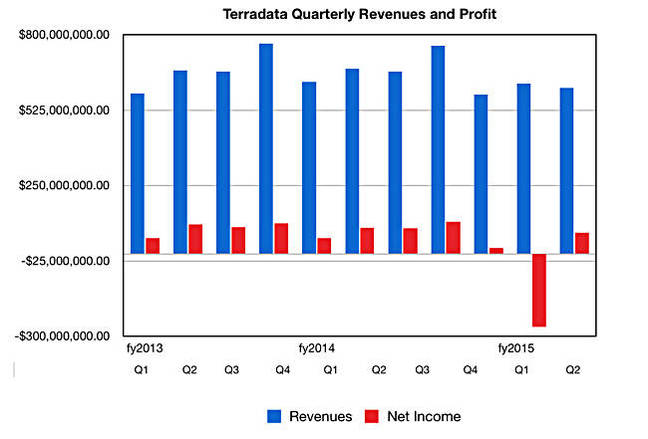 That "new Teradata" is going to have its software available in Amazon's cloud in the first quarter next year and also to have its software available as only software, letting customers run it in hardware of their choice. It is cutting costs in its its infrastructure, research and development, and go-to-market areas; pink slip alert.
It expects to improve its operating income by $120m in 2016 by doing all this, exclusive of one-time costs.
A Sterne Agee analyst report we have seen, looking at Teradata, says: "The headline issue, in our view, is the increasing risk that the Top 50 customers who purchased the larger 6K series platforms 2-3 years ago may never fully refresh these systems in CY2016/CY2017 (which could lead to double-digit revenue declines)."
Teradata's fourth 2015 quarter's revenue is expected to show a six to eight per cent decline from the $761m reported a year ago, meaning $708m at the mid-point.
That implies $2.53bn for the full year, compared to $2.7bn last year, a 7.4 per cent decline. It expects to make a loss for the full year too. Koehler and his team will be glad to see the back of it. ®