DataDirect Networks has boosted the performance of its flagship SFA12K array, upgrading it to the SFA14K with more than three times the IOPS performance.
DDN boasts: "The introduction of the SFA14K delivering 60GB/s and six million IOPs in a single 4U appliance, is the largest single leap forward in performance of any large scale storage solution in this decade."
Do you hear that, Infinidat?
It says that software-only storage products, using commodity hardware are fine for the broad mass of needs but so-called data-intensive organisations, including HPC customers, need arrays which deliver more performance by having hardware and software integrated and designed to run together better, than by having storage software do its job on run-of-the-mill commodity hardware.
The SFA14K block storage array uses a 4U enclosure as before but three headline performance numbers are all increased:

Faster processors are partly responsible, as well as faster SSDs and interconnects.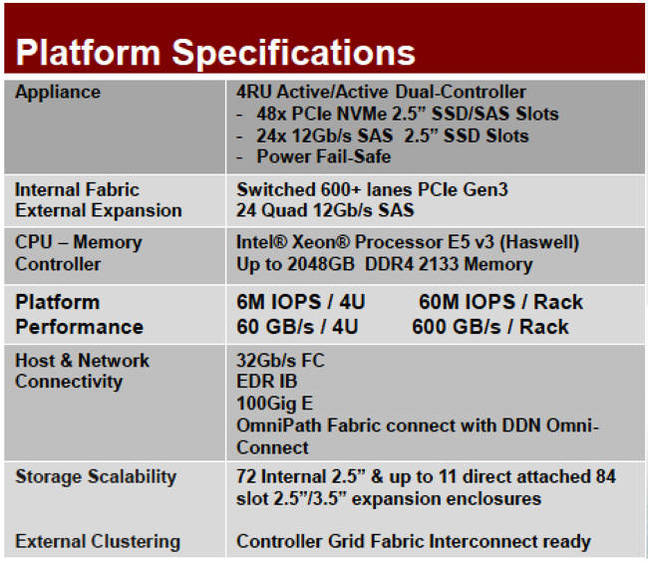 The SFA14K features dual active:active controllers and has up to 2TB of DRAM serving its Xeon E5 v3 CPU. There are 48 x PCIe NVMe SSD slots plus 24 x 12Gbit/s SAS SSD bays; up to 72 flash drives in total. There are three tiers of IO caching: DRAM is the fastest (0.2 millisecs), followed by NVMe PCIe SSDs (0.4 millisecs) and then the SAS SSDs (0.8 millisecs). DDN claims a single 4U SFA14K can do the same work as competing systems needing 1.5 to 2 racks of storage and controllers.
A DDN SFA14K product brochure says: "At six million IOPs and 60GB/sec from a single 4U appliance, the SFA14K is the fastest storage solution in the industry today."
The SFA14K can do more in-array processing than the previous SFA12KE/SFA12KXE models which ran an embedded file system inside the array.
There are two model types: the SFA14K and the SFA14KE, which can run applications inside the array, as well as virtual machines, embedded applications and file systems. DDN calls it a hyper-converged appliance, claiming it's "the world's fastest hyper-covered storage."
They occupy 4U enclosures, as before and, also as before, the SFA14K can use a mix of disks and solid state drives. However, only small form-factor disks are supported, 2.5-inch drives, with 72 per 4U appliance cabinet. The SSDs used are 3.84TB ones from Toshiba.
The SFA14K can use up to 11 84-slot SS8462 and SS8412 expansion cabinets which are 4U in size and can use 3.5-inch or 2.5-inch nearline SAS disk drives or SSDs.
One rack can have 912 drives, 7.01PB, in 44 rack units.
DDN claims the SFA14K "accelerates small, large and mixed IO workloads in a unified solution that alternatively would require a dedicated SSD array for small files and a scale-out system for throughput from alternative vendors."
The arrays use NVMe SSD, PCIe 3, EDR InfiniBand and Omni-Path technologies to reach the performance levels above. There are 32Gbit/s Fibre Channel and 100Gbit/s Ethernet host connectivity options and an embedded 600+ lane PCIe gen 3 fabric. DDN says the design offers both scale-up and scale-out expansion. A 24 quad 12Gbit/s SAS is used for external expansion.
The SFA14K can be clustered with a Controller Grid Fabric Interconnect said to be ready by DDN.
Here, for reference, are the model specs for the SFA12K: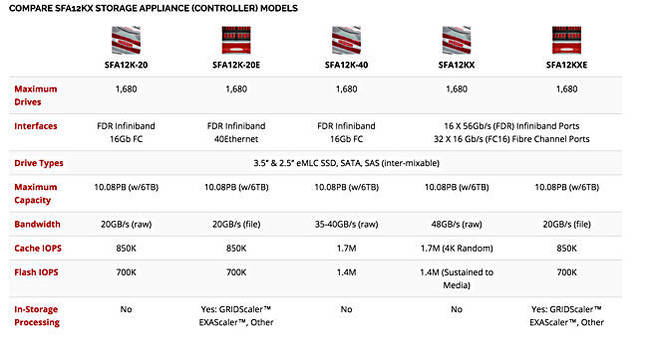 Here is a specification table for the SFA14K:
DDN has provided a performance comparison chart showing the SFA14K besting Pure Storage and XtremIO in IOPS terms, and NetApp's EF550 and XtremIO again in bandwidth terms: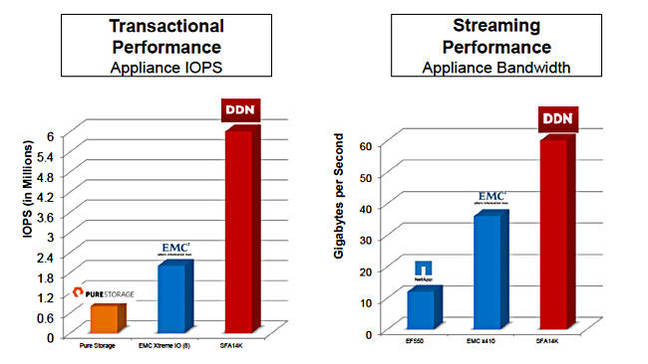 Check out a DDN SFA14K briefing doc here. El Reg expects other DDN products using the current SFA12K to get a boost by using this go-faster SFA14K. We don't yet have pricing information although both the SFA14K hybrid block storage and SFA14KE hyper-converged storage offerings are available and shipping today. ®