This article is more than 1 year old
UN privacy head slams 'worse than scary' UK surveillance bill
And calls father of the internet Vint Cerf dumb
The United Nations' new privacy head has slammed the UK's draft surveillance bill, calling it "worse than scary."
Speaking at the annual Internet Governance Forum (IGF) in Brazil, special rapporteur on privacy Joe Cannataci referred to the Investigatory Powers Bill as the "Snooper's Charter" and accused the UK government of an orchestrated campaign to get hold of new mass surveillance powers that the evidence shows will not prevent terrorism.
The outspoken chief also accused "father of the internet" Vint Cerf of being "dumb" by claiming that modern privacy "may be an anomaly." The claim that anonymity only occurred in modern time with the move to big cities was "pure, undiluted rubbish," said Cannataci.
Giving a presentation at an open forum on the Right to Privacy in The Digital Age, Cannataci was highly critical of a number of recent efforts by countries to expand surveillance, including France's new law created following the attack at the offices of Charlie Hebdo, but he focused in on the UK and the surveillance bill currently going through Parliament.
"One of the most misleading comments I have heard about this," he noted, talking about the debate on the bill, "is one which said 'we don't really have to worry about it, because all we are doing is giving our security services the same powers they have today over our telephone.' Which sounds okay at first, but it's not, because it takes it completely out of context."
That context is the internet, he said. "The context is completely different. When those laws were put in place there was no internet or it wasn't used in the way the internet is used today. Every day you and me create tons of metadata that previously did not exist."
Cannataci complained that the security service have "never had so much data" and noted that numerous heads of security services have admitted that they don't need some of the powers included in the new bill. "All the talk about the world going dark is just that: talk."
He then gave a brief rundown of the repeated efforts by the UK establishment over the past few decades to introduce such broad surveillance – "from one fiasco to another" – and warned that there was effort to bypass the UK's democratic system. "It's not even the content but the way they want to do it. Is this a democracy ladies and gentlemen?," he asked attendees.
He also argued that the rollout of the bill represented a clearly orchestrated effort to grab the new powers. "It is an absolute offensive. Do a media analysis of the way that the UK establishment is trotting out news and ask yourselves the question: if this is not orchestrated then what is?"
Cannataci also argued forcefully that mass surveillance was not the way to handle the threat from terrorism and pointed to a report by the Dutch intelligence services that argues that point. "To get real terrorists, you have to go for good old-fashioned infiltration," he argued, wishing that the security services would spend less money on computers and more on real people who go out and get real, actionable intelligence on what people are up to. "It's time to be realistic and actually examine what evidence shows."
On the plus side, he noted that "at least in the UK there is an open debate. In a number of countries, they have a far more serious situation – ten million unauthorized interceptions."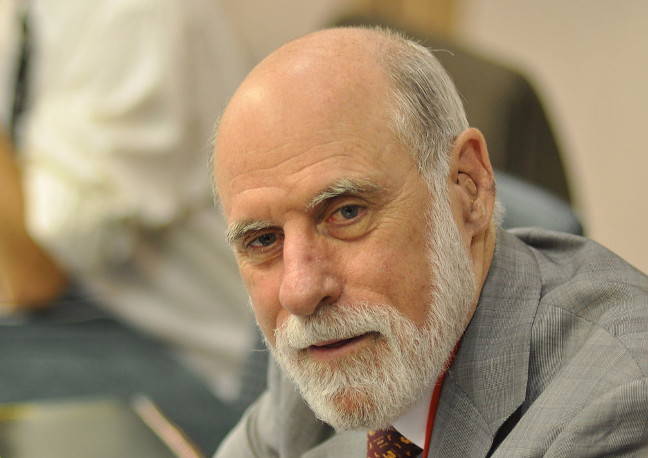 Cerf: Dumb to say privacy is an anomaly
Dumb privacy
While shooting at officialdom, Cannataci also surprised attendees by attacking the so-called "father of the internet" and Chief Internet Evangelist for Google, Vint Cerf.
Cerf, along with other senior Google executives, has repeatedly argued that privacy is no longer possible in the digital world. But at a meeting at the Federal Trade Commission back in 2013, Cerf said that it may be an "anomaly."
Cannataci read Cerf's full quote:
Privacy may actually be an anomaly. Privacy is a construct of the modern industrial age. In the past, everyone lived in small, self-contained communities where everyone knew who was dating the baker's daughter and what the sheriff had for lunch. It is only when populations started migrating en mass to cities that anonymity emerged as a by-product of urbanization.
This, Cannataci said, was "pure, undiluted rubbish," adding: "I cannot understand how a person of the intelligence of Vint Cerf could say anything so dumb. It's just dumb."
Instead, he noted, "privacy has been around for the last 30,000 or 40,000 years" and he had charted it in a book he had edited – which he then offered to send to Cerf for free. The aborigines developed a way of living that included privacy, so did the Chinese and Japanese and "everyone else on the planet," he noted.
"I'm sorry, you just have to call a spade a spade," he concluded. Instead, he argued, we need to do something about protecting privacy – and that will likely be encryption. ®