This article is more than 1 year old
Cement company in sacks out for the lads rumpus
Hauled into Spanish court over sexist adverts
A Spanish cement manufacturer has been called to account for its persistent and blatant use of large-breasted women to punt its wares.
Cementos La Unión recently found itself in a Valencia court accused of sexism, following legal action by Spain's Institute of Women, a tentacle of the Ministry of Equality. The Violence Against Women section of the Valencia public prosecutor's also backed the call to ban the company from future sexist advertising, or rerunning previous campaigns.
There appears to be ample evidence of Cementos La Unión's use of female assets to appeal to the male cement-buying demographic. A previous advert, extolling the virtues of the manageable 25kg sack of cement, as opposed to the standard 35kg pack, formed part of the prosecution's case:
This corporate video starts plausibly enough, but then quickly decides that the best way to promote "investigation, communication, expansion" is with an enormous amount of cleavage:
It's not clear if the woman seen in the vid is part of the female presence in Cementos La Unión's workforce, which according to a press release issued in August, is "above the Spanish average in the sector".
The release says the company "supports the training of women and their inclusion in the workforce". It adds that "we exceed the standards for equality and parity in the Spanish construction industry".
In keeping with these sentiments, the manufacturer has made a better hash of its corporate overview brochure (PDF), which includes this fully-clad female doing something other than attempting to persuade hairy-arsed builders to buy cement: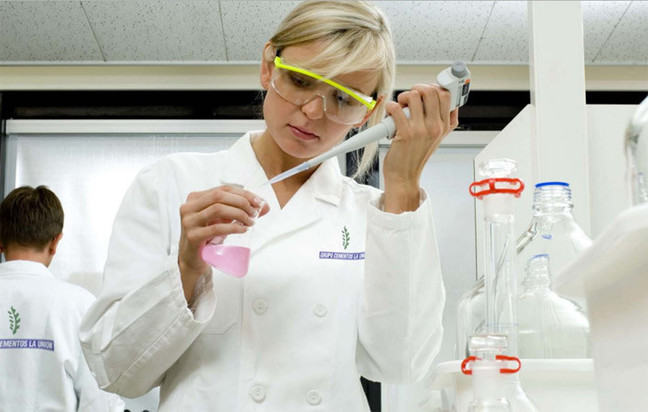 The court in Valencia will rule in the next few days on the sexist advertising charges, according to El Mundo. ®