Review A bit more where-it's-at functionality has been added into the mix with the W760i - alongside a typical spread of music mobile features, Sony Ericsson has introduced integrated A-GPS for the first time.
As part of Sony Ericsson's first wave of GPS-packing handsets, the W760i has Google Maps software pre-loaded, plus a three-month trial version of Wayfinder Navigator satnav software for turn-by-turn voice navigation. In addition, Sony Ericsson has loaded up its Tracker GPS-based sports training app, providing more active music phone users with a satnav-accurate way to monitor running performance.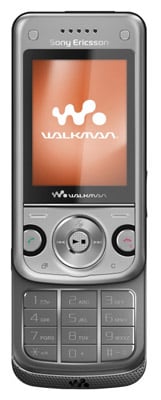 Sony Ericsson's W760i: now with A-GPS
While Sony Ericsson has included Google Maps software in many of its recent mid- and high-end phone releases, with A-GPS technology inside – using a combination of GPS satellite location-finding and mobile network cellsite tracking – the W760i is able to deliver far more precise positioning and calculate locations quicker.
Pitched towards the higher end of the Walkman phone range, the W760i features tri-band 3G UMTS with HSDPA high-speed data connectivity (up to 3.6Mb/s) and quad-band GSM support. It's loaded with the latest version of Sony Ericsson's Walkman music player, which again includes Shake phone-flicking track-changing gimmickry, and SensMe mood- and tempo-based playlist selection options.
While HSDPA enables the high-speed downloading of music, videos and other content, one regular 3G feature absent from the W760i is face-to-face video calling, as there's no fron- facing camera on this device. Sony Ericsson has included just one main snapper, a 3.2-megapixel camera similar to the one used on the W890i, with no flash or autofocus system.
The W760i isn't from the super-slim side of the Sony Ericsson family. Its sliderphone dimensions are an average-sized 103 x 48 x 15mm, and it tips the scales at a reasonable 103g - slightly stockier than the 12mm-thick W910i.
Similar topics