Hitachi Data Systems sees an all-flash on-premises data centre future and is upgrading and extending its big iron Virtual Storage Platform (VSP) array line to help us on the way there, with faster and larger flash modules, in-line compression, and an all-flash VSP F Series.
This is a substantial announcement by Hitachi/HDS, with eight hardware boxes in two model ranges and a new flash drive, as well as new software. Its flash portfolio now includes:
Gen 2 Hitachi flash modules with inline data compression (FMD DC2)
All-flash Hitachi Virtual Storage Platform (VSP) F Series
Enhanced VSP G Series arrays using the FMD DC2
Enhanced Hitachi Automation Director
Data Centre Analytics Tools
Hitachi wants us to know it has shipped more than 250PB of total flash capacity, and there are more than 350 flash-related patents held by Hitachi worldwide, "more than any other vendor in the industry."
Gen 2 Flash Module
This is a bunch of MLC flash chips driven by an embedded ASIC, a multi-core controller which, Hitachi claims, makes the MLC flash perform as naturally faster SLC NAND SSDs. The controller features an in-line compression engine and it, with the Flash Translation layer, provides an up-to-80 per cent reduction ratio, but typically 50 per cent.
The FMD DC2 has 1.6TB, 3.2TB and 6.4TB capacity points. (HP was shipping 6.2TB FMDS with its XP7 array, OEM'd from Hitachi, back in September.)
Hitachi says it has a greater-than 154TB effective capacity per 2U enclosure with 12 bays. Full of 6.4TB FMDs the tray's raw capacity is 84.7TB, with delivered capacity being 76.8TB. This table provides more details: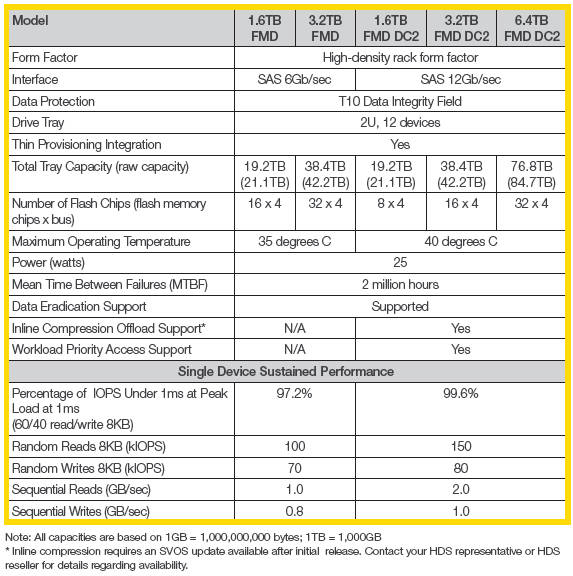 Specifications for Hitachi's gen 2 Accelerated Flash (HAF) module, the FMD DC2
The FMD DC2 doubles the gen 1 FMD's maximum capacity from 3.2TB to 6.4TB and adds in-line compression. This PCIe-connected (but not yet NVMe) design is patented and has a "parallelised architecture that delivers up to five times more write IOPS and three times more read IOPS than standard solid state drives (SSDs)."
Hitachi says it has a 60 per cent lower response at peak load than an Intel SSD DC S3610 Series product (March 2015 spec).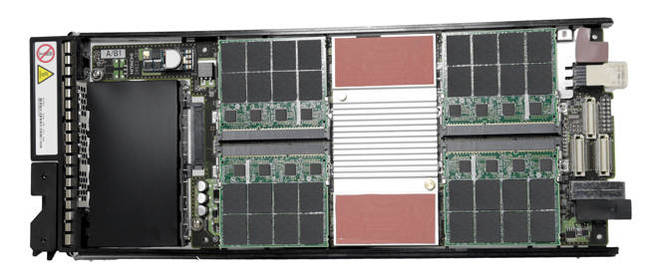 Hitachi gen 2 FMD with 32 NAND chips
It has multi-queuing technology to prioritise IO over background operations, such as garbage collection and data refresh, for lower latency under heavy load.
Hitachi Virtual Storage Platform F Series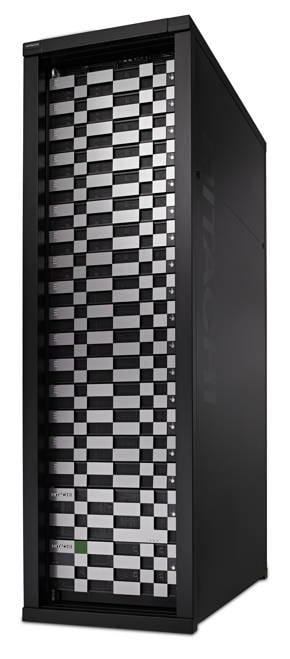 Hitachi/HDS VSP F Series
Hitachi says this new all-flash array offers the industry's only 100 per cent data availability guarantee. That is quite a claim. It's not 5 nines or Infinidat's 7 nines (99.99999 per cent) but a flat out 100 per cent, meaning absolutely no downtime whatsoever.
It has complete system redundancy, hot-swap parts and non-disruptive upgrades, and all three models – F400, F600 and F800 – share what Hitachi calls "The industry's only 100 per cent data availability guarantee."
Essentially these three models are all-flash versions of the VSP G series hybrid arrays and run the same SVOS software in embedded form. We're told that, with a central point of control, VSP F series unifies block and file access.
They use the FMD DC2 flash drives and have a maximum IOPS rating of 1.4 million with latency less than 1ms, even at maximum scale. Effective capacity starts at 12.8TB and goes up to 448TB (raw range 14TB – 256TB.)
Hitachi says the F Series shares common management and automation tools with other Hitachi storage products, and works seamlessly with Hitachi's infrastructure products.
Data protection software is included and is claimed to eliminate backup windows and speed recovery by reducing copy data (data instances) with policy management and workflow facilities. There is also included local replication software for non-disruptive, host-independent, full-volume data replication and logical, point-in-time, protected copies of changed data blocks.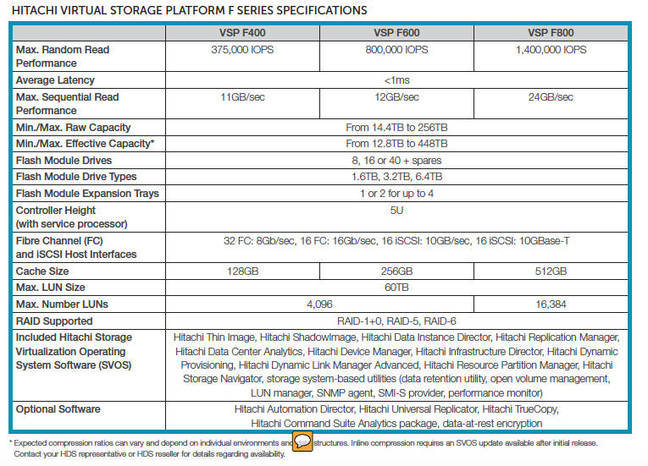 VSP F Series spec table
It seems clear from the table that the three VSP F Series models, having the same flash capacity ranges but differing IOPS, must have different processing engines along with the varying case sizes.
VSP G series
The Hitachi VSP G series, sharing the F Series' 100 per cent availability guarantee, has had its performance increased through use of the FMD DC2 drive. There are five hybrid flash/disk models; G200, G400, G600, G800 and G1000, with performance and capacity increasing as we go up range.
HAF capabilities include monitoring data activity and automated tiering to/from flash to disk in real-time and as appropriate. There is a Global-active device feature which:
supports read/write copies of the same data in two places at the same time. Its active-active design implements cross-mirrored storage volumes between two matched VSP systems that accept read/write IOs on both sides that are continuously updated. If a disk controller failure occurs at one site, the controller at the other site automatically takes over and accepts read/write IOs. Global-active device ensures that an up-to-date storage volume is always available and enables production workloads on both systems, while maintaining full data consistency and protection.
There is unified storage providing file, block and object access.
Here is a spec table: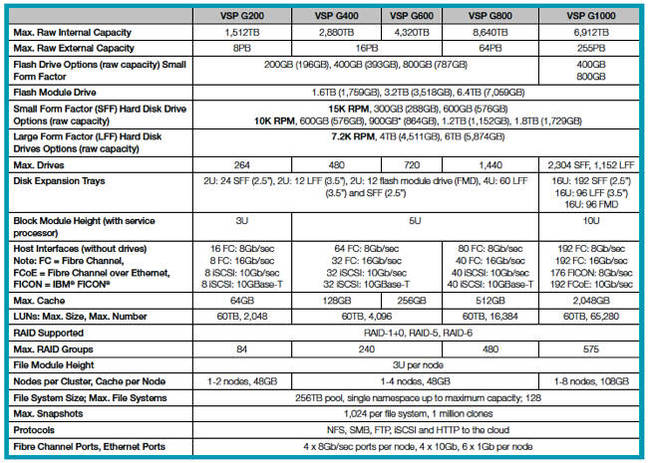 VSP G Series family specs
Hitachi has provided maximum random read and write IOPS for the VSP G Series products using the FMD DC2:
VSP G1000 – 4.2 million/1.2 million
VSP G800 – 1.4 million/285,000
VSP G600 – 800,000/188,000
VSP G400 – 600,000/159,000
VSP G200 – 270,000/71,000
That means we can chart the F and G Series random read IOPS to see how they compare: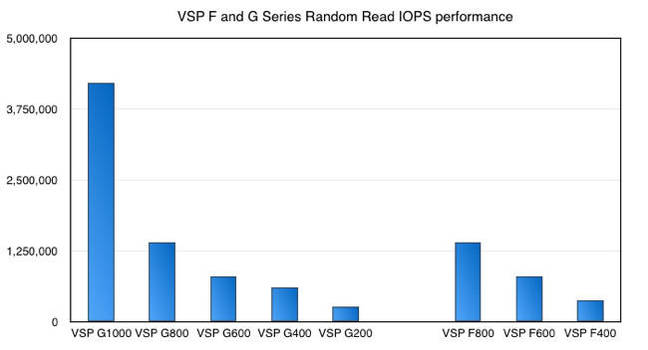 The F and G 800 and 600s are identical, but the F400 is positioned mid-way between the G400 and G200.
Enhanced Hitachi Automation Director software
HAD lets users self-provision flash storage through predefined service templates and automated management workflows.
Hitachi Data Centre Analytics
Hitachi Data Centre Analytics monitors Hitachi and third-party storage to identify and help resolve system performance issues and enable capacity planning. Hitachi says it has granular performance monitoring, and claims it's "the most efficient and scalable analytics software in the industry."
HDS says it will carry on growing its flash storage portfolio to provide the highest density and efficiency available in the industry, with more all-flash products; a hint that the VSP F Series line will be expanded, and flash options for converged and hyper-converged environments. ®