Game Theory I doubt very much when Philip K. Dick wrote The Man in the High Castle that he imagined the very same subject matter could be dealt with in such a rip-roaring, gore splattering, dual-wielding romp. The victorious Nazis are no match for Wolfenstein's B.J. Blazkowicz.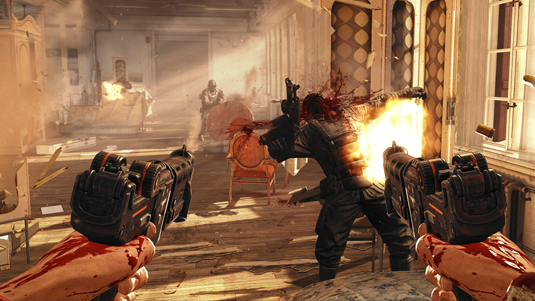 Wolfenstein: The New Order – a dual-wielding romp at your service
Wolfenstein: The New Order does not take itself too seriously, though; even the initial choice of difficulty level gave me a giggle. Being an FPS n00b when it comes to consoles, I was tempted to stay sucking on my dummy in "Can I play, Daddy?" mode (Blazkowicz does paraphilic infantilism?) but hey a girl's gotta do what a girl's gotta do and, in the end, I went with my catchphrase from the pub "Bring 'em on!"
The prologue starts with an idyllic dream sequence of a good old down-home BBQ. Blazkowicz is then brutally awakened in the midst of an allied air assault on the fortress of General Deathshead, who comes over all Dr Mengele channelling Dr Who. The initial tutorial has me scurrying around the aircraft, fixing pipes and dumping cargo, until I get a chance to clip some Nazi super jets.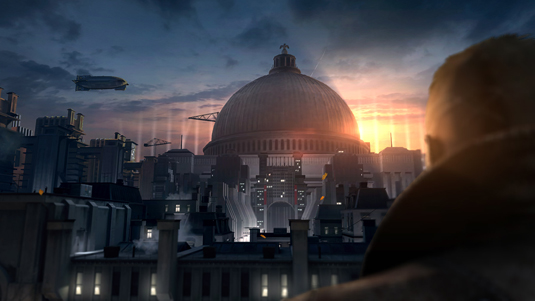 The sun shines on the new world order
It's during this prologue, that I am first struck by how stunning this game looks, the sky is always an über HDR sunset and – oops, my reverie is broken by a chomp to the face by a rather aggressive version of K9.
Fighting my way through General Deathshead's fortress, my suspension of disbelief is knocked, and I'm thinking: is this just another run-of-the-mill FPS? Luckily, this feeling dissipates and I become drawn into the narrative by the moral choices I'm asked to make – sorry Wyatt, Fergus just appealed to my Caledonian ancestry. Fleeing the fortress, B.J. receives a bash to the bonce and everything goes black.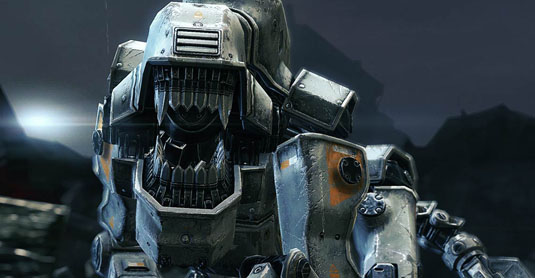 The dogs of war look a little different these days
After the prologue, the game's narrative jumps forward in time to 1960. Since his head trauma and resulting coma, B.J. has been committed to an asylum that General Deathshead uses as a candy box for his experiments. The Nazis are ordered to close the asylum and they start massacring the staff and patients inside as a parting gift.
These events shock B.J. awake and he begins to strike back, being sure to save sultry asylum worker Anya on the way out – it's not long till she's riding him cowgirl-style on a train. Holed up in a farmhouse, B.J. learns that Germany won the war and only he can start the resistance and begin the fight back against the fascist overlords.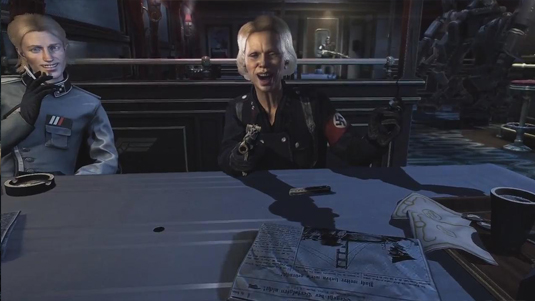 Meanwhile, back at the asylum...
The previous Wolfenstein had me toting some crazy super powers, but to me it seems The New Order is all about the guns and mouldy concrete. I can have up to five weapons on me at any one time, most of which can be dual-wielded, and typically they all have alternate fire modes.
Until I picked up the Laserkraftwerk – handy also for laser cutting boxes, creating a nifty escape route, and later in the game instagibing multiple Nazis – my favourite was the automatic shotgun, as it helped my aim with a control pad.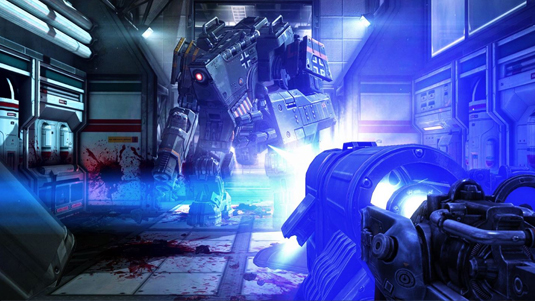 Know your lasers
Wolfenstein: The New Order runs in 1080p at 60 frames per second, so the gameplay feels and looks satisfyingly smooth and fluid. It was created on the idTech 5 megatexture content creation pipeline, which is the same gaming engine that Rage was built on, so it's not the best looking game I have seen lately.
Similar topics