Experian has claimed the megahack of its own systems, compromising 15 million T-Mobile US customers' data, has cost it $20m so far, with several class action lawsuits also on the horizon.
The Dublin-based credit services company said the enormous breach of T-Mobile US information was a result of its own systems being hacked, rather than T-Mobile's.
The company held information on T-Mob US customers as it processed credit applications to the company.
"One off" costs of $20m (£13.2m) had little impact to the company, according to its half-yearly financial report. However, it has warned that it's received "a number of class actions" and was unsure of the effect following the legalities, as well as regulatory and government actions.
Pre-tax profit dropped by 14 per cent, from $534m to $458m year-on-year, and revenue fell by six per cent from $2.39bn to $2.24bn. Investors were quite happy to disregard this however, with an early slump being completely forgotten after an 11 per cent surge from Monday's closing price of 1102p to 1233p, when the market opened on Wednesday.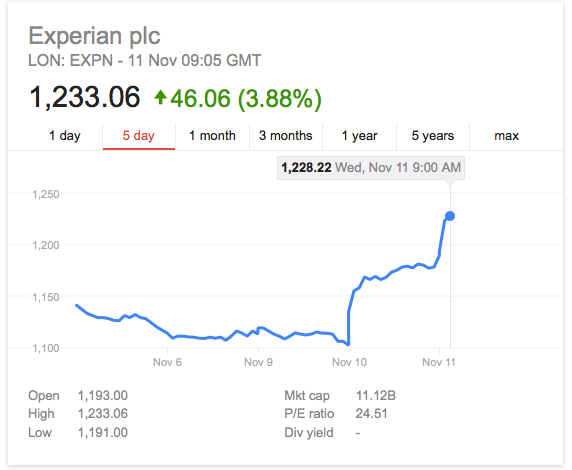 T-Mobile US eventually got rid of Experian for credit checks following the hack, telling The Register that TransUnion's CSID service would offer ID theft and credit monitoring instead.
Analysis of the breach at the time noted that despite Experian being at fault, reputational damage will still fall upon T-Mobile.
"Ultimately, T-Mobile's customers aren't going to care where and how the breach occurred – the bottom line is they trusted T-Mobile with their sensitive data and now that trust is broken," Luke Brown, VP at data loss prevention firm Digital Guardian told The Register. ®
Similar topics