Asteroid mining operation Planetary Resources is as pleased as punch with those members of the US Congress who've backed "historic legislation" H.R.2262 – aka the "SPACE Act of 2015".
The act "recognizes the right of US citizens to own asteroid resources they obtain as property and encourages the commercial exploration and recovery of resources from asteroids, free from harmful interference".
According to the company's press release, the legislation "creates a pro-growth environment for the development of the commercial space industry by encouraging private sector investment and ensuring a more stable and predictable regulatory regime".
Specifically, H.R.2262 states:
The President, acting through appropriate Federal agencies, shall:

(1) facilitate commercial exploration for and commercial recovery of space resources by United States citizens;

(2) discourage government barriers to the development in the United States of economically viable, safe, and stable industries for commercial exploration for and commercial recovery of space resources in manners consistent with the international obligations of the United States; and

(3) promote the right of United States citizens to engage in commercial exploration for and commercial recovery of space resources free from harmful interference, in accordance with the international obligations of the United States and subject to authorization and continuing supervision by the Federal Government.
Chris Lewicki, Planetary Resources' prez and chief engineer, enthused: "We are proud to have the support of Congress. Throughout history, governments have spurred growth in new frontiers by instituting sensible legislation."
"Long ago, The Homestead Act of 1862 advocated for the search for gold and timber, and today, H.R. 2262 fuels a new economy that will open many avenues for the continual growth and prosperity of humanity. This off-planet economy will forever change our lives for the better here on Earth."
Joining the space love-in, Florida Republican Congressman Posey said: "This bipartisan, bicameral legislation is a landmark for American leadership in space exploration. Recognizing basic legal protections in space will help pave the way for exciting future commercial space endeavors.
"Asteroids and other objects in space are excellent potential sources of rare minerals and other resources that can be used to manufacture a wide range of products here on Earth and to support future space exploration missions. Americans willing to invest in space mining operations need legal certainty that they can keep the fruits of their labor, and this bill provides that certainty," he added.
While it's certainly solid thinking to establish a legal framework for the advancement of extraterrestrial capitalism, there's still a way to go before Planetary Resources' robot miners are hewing riches from the living asteroid.
Back in 2013, the company, backed by luminaries including James Cameron, Larry Page, Eric Schmidt and Charles Simonyi, tin-rattled its way to a cool $1.5m down at Kickstarter towards development of the ARKYD space telescope.
Unfortunately, the Arkyd 3 (A3) technology demonstrator – carrying some tech destined for the asteroid-spotting eye in the sky – was distributed over NASA's Wallops Flight Facility when the Orbital Sciences' Antares rocket, which was supposed to carry it to the International Space Station, blew up in October 2014.
Happily, the Arkyd 3 Reflight spacecraft had a more successful trip atop a SpaceX Falcon 9 in April this year, and was subsequently ejected from the ISS's Kibo module for a 90-day test jaunt.
The mission was designed to "validate several core technologies including the avionics, control systems and software, which the company will incorporate into future spacecraft that will venture into the Solar System and prospect for resource-rich near-Earth asteroids".
As with Arkyd 3, it also carried technology destined for the ARKYD telescope.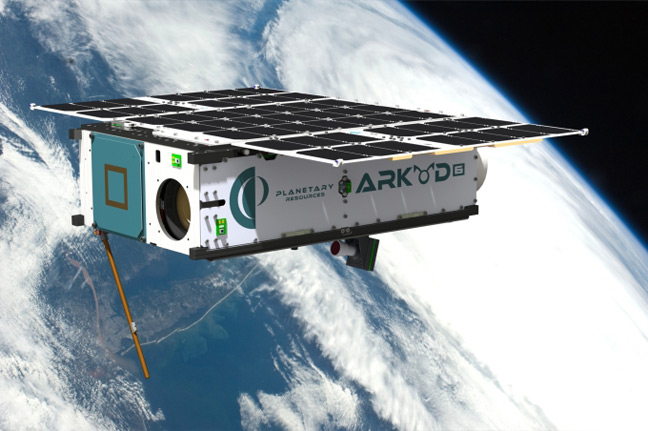 Artist's impression of the Arkyd 6 in orbit. Asteroid riches here we come
Next up for Planetary Resources is the launch of the Arkyd 6 tech demonstrator later this year, which "will test the next generation of attitude control, power, communication and avionics systems and also add sensors for detection and characterization of resources". ®
Bootnote
In good news for those non-US readers who might be eyeing some light asteroid mining themselves, H.R.2262 contains this "Disclaimer of extraterrestrial sovereignty":
It is the sense of Congress that by the enactment of this Act, the United States does not thereby assert sovereignty or sovereign or exclusive rights or jurisdiction over, or the ownership of, any celestial body.