Brace yourselves. Huawei's launching an HCIA product
Can be deployed in 11 mins after unpacking
---
Comment Huawei has a hyperconverged infrastructure Appliance (HCIA) product; its FusionCube product line. This is comprised of its own server, storage, and networking system components, plus virtualisation and management software.
The company said one of these can be deployed in 11 minutes after being unpacked and powered up. A rack of them has a claimed 192GB/sec throughput and delivers 7.2 million IOPS. These are bound to be "up to" numbers.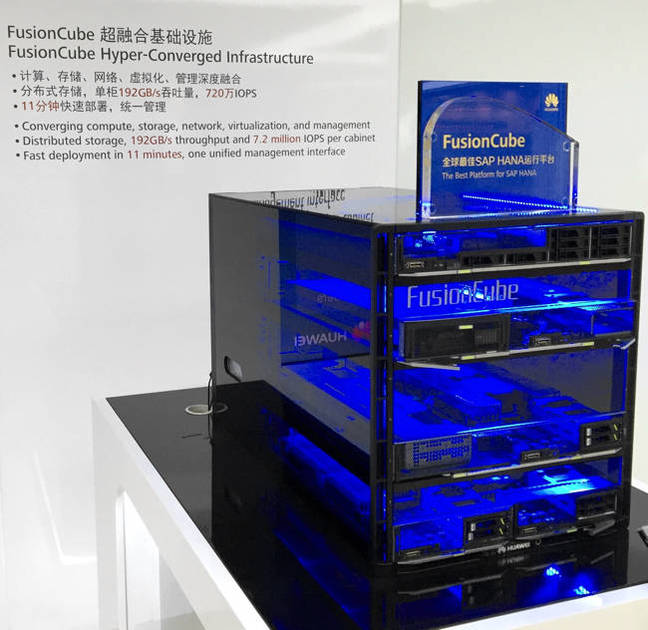 FusionCube exhibit
The server component shown in Huawei's Shenzhen exhibition centre is an E9000 FusionServer, a 12U, 16-node converged architecture blade server.
A chassis can be fitted with 64 x Xeon E5-2600 v3 CPUs and 120 x 2.5-inch disk drives. There are 48 standard PCIe expansion slots in a chassis as well.
Huawei FusionCube is a pre-integrated solution designed to simplify deployment of a powerful, virtualised IT infrastructure.

It features fully converged computing, storage and networking, with a highly automated virtualisation and management system.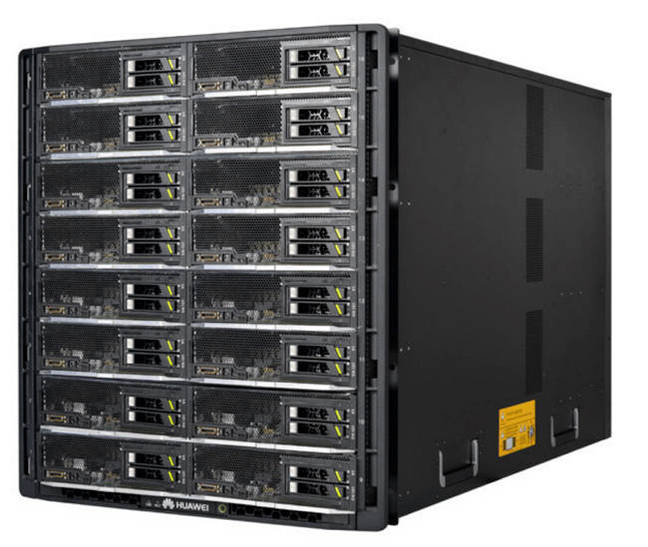 FusionCube hardware
Huawei said the system "provides a linear increase in system caching by pooling memory and SSD storage across all devices in the cube, increasing application performance."
We are also told that "the cluster scale-out storage engine provides storage virtualisation of three-tier (Memory-SSD-DAS) storage and eliminates the vulnerable RAID controller while providing high availability and scalability ... Data is striped and stored across all (hundreds or thousands of) disks in FusionCube, increasing both the utilisation of the disk storage and I/O performance for different applications."
A FusionCube can run SAP's HANA in-memory database, Oracle and Sybase, and also virtualised servers – VDI for example – and Huawei has configurations for these use cases.
This is a pretty hot box that supports both Ethernet and Fibre Channel access and has a single management facility in its FusionSphere software.
US vendors pitching HCIAs at the markets outside the US should expect to meet Huawei FusionCube-based bids and be prepared to counter its properties.
Check out a FusionCube virtualisation Infrastructure Backup Solution white paper here. Download a FusionCube data sheet here. ®