Microsoft's Azure has joined AWS and Google as a virtual filer accelerator host for Avere's vFXT filter caching software.
Avere makes its FXT, a hardware and software multi-tier caching appliance, which accelerates on-premises filers, such as those from Isilon and NetApp. It can also be an on-premises front-end for files held in Amazon and Google clouds, enabling primary data stored in them to be cached on-premise and used to feed on-premises applications.
The clusterable vFXT software, called a Virtual Edge Filer, runs in a public cloud and caches data for compute instances running in that cloud. This data can come from files stored in those clouds or on-premises with the vFXT acting as a kind of reverse cloud storage gateway.
NFS and SMB and other protocols are supported.
Avere and Microsoft have been working together and vFXT now supports and runs in Azure. On-premises filers can feed data to Azure compute instances, using this edition of vFXT, and have the compute instances experience data access latencies equivalent to in-Azure data storage. We're told this avoids the WAN access latency tax of having the Azure compute instances depend on non-cached access across the WAN to the on-premises files.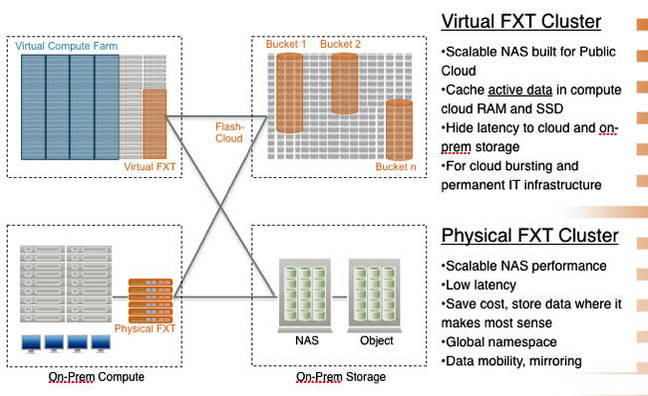 Avere FXT and vFXT concept
We're told "In a matter of minutes, enterprises can deploy thousands of Azure HPC instances on-demand to crunch data with low latency and no data migration." Data can be moved from the on-premises site to Azure using Avere's FlashMove facility.
Instead of just being used to support on-premises compute bursting to the cloud, the FXT/vFXT products could turn on-premises filers into zombie arrays. If the customer wants to move files completely to the cloud then the FXT and vFXT products are cloud on-ramps for doing just that. They sit there and, via FlashMove, silently hoovering up data into the public cloud, emptying out on-premises filers until they are no longer needed and can be discarded. On-premises filer suppliers should be aware of this threat.
One more thing: it might be possible to have a vFXT in one cloud cache data from another cloud, for example have an Azure vFXT fetch data from AWS or Google to feed Azure compute instances. The FlashMove facility could also, we think, be used to migrate data from cloud to cloud, from Google to AWS, say, where it makes sense.
Check out an Avere FXT/vFXT background doc here (PDF). ®
Similar topics