Bangladesh shuts down its internet during war crimes trial
Government claims online blockade was a misunderstanding
---
The government of Bangladesh shut down its internet for an hour earlier today in response to the announcement of the death penalty in a high-profile war crime trial.
Between 1.15pm and 2.15pm local time, almost all online activity in the country, which shares India's eastern border, was systematically shut down.
Of the 2,500 border gateway protocol (BGP) routes into the country, 2,000 were shut down in a 10-minute window. A further 250 were withdrawn 30 minutes later. Approximately 10 minutes after that, routes started being re-announced and everything was back up an hour after it started, although it has taken several hours for things to start working normally again.
Although Bangladesh has suffered outages in the past due to its reliance on a single submarine cable, two years ago it added a terrestrial link through India. No neighbors suffered an outage, which led to questions of the government over the fact that the outage happened around the same time as a verdict in a high-profile court case.
The government has since admitted that it was responsible for the action, reportedly saying that it only intended to block specific chat services and that the complete takedown was a "misunderstanding" and a "mistake."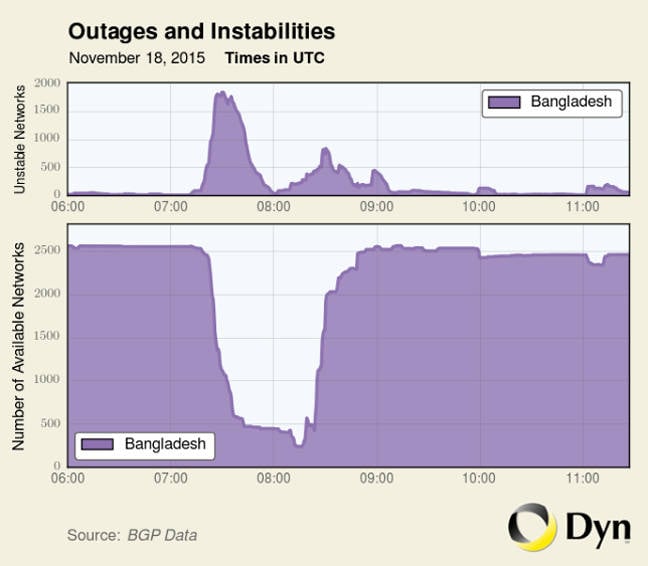 Government order
Bangladeshi telecom operators received a notice from the government that instructed them to "stop the Facebook, Viber, and WhatsApp services in your network with immediate effect until further notice." The ban was for "security reasons."
Clearly the telcos either do not have the ability to block specific applications or felt it was better to be safe than sorry, and simply killed their BGP routes. Earlier this month, Prime Minister Sheikh Hasina said she may institute "temporary restrictions" to block some online applications in order to combat radical Islamists.
The reason for today's shutdown was the rejection of clemency appeals for former government leaders for war crimes dating back to its 1971 independence war. Ali Ahsan Mohammad Mujahid and Salauddin Quader Chowdhury both remain important political figures, but were given a death sentence in 2013 having been found guilty of the torture, murder, and genocide of roughly 200 people and of collaborating with Pakistan's army during the war.
Chowdhury's opposition party called for a nationwide strike in response to the verdict and earlier court rulings led to violent clashes. Critics say the trial is politically motivated. Both men have a single option remaining before an execution date is named – a presidential pardon.
There have been similar internet outages in Egypt and Syria in the past, carried out in the same way, although Bangladesh is arguably a more diverse and less authoritarian country, marking out the shutdown as particularly troubling even though it lasted for just a few hours rather than a few days. ®
Similar topics
Broader topics