This article is more than 1 year old
Game of Photons: Boffins make ICE with FIRE
Lasers used to chill water. You read that right: chill, not heat
Laser refrigeration, that counter-intuitive application of the technology, has taken an important step towards reality, with scientists from the University of Washington chilling water by 36°F (20°C).
That's enough of a change, in normal real-world conditions, for the research team led by assistant professor of materials science and engineering Peter Pauzauskie to be proclaiming a "breakthrough."
It is, however, only on a small scale: the photo below shows the entire setup.
Laser cooling has been around for a while, but generally only under controlled conditions and most often at the nano-scale.
For example, getting a laser to resonate at the right frequency will draw energy out of a molecule moving towards the laser, because the incoming photon slows the molecule down just a little. That laid behind a cool experiment in 2012 conducted at the Neils Bohr Institute, in which a semiconductor membrane was chilled using a laser to 4K.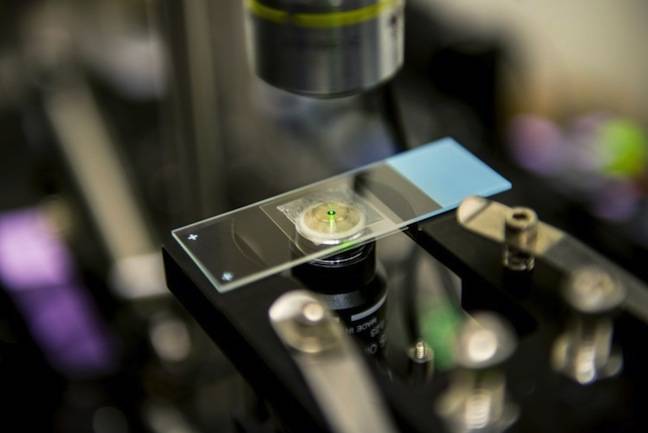 The greenish glow is the crystal after excitation by the laser. Image: Dennis Wise/ University of Washington
In the latest experiment, researchers from the University of Washington set out to replicate under normal conditions an experiment first carried out at Los Alamos 20 years ago, but which required a vacuum.
The UW release explains that the researchers illuminated a crystal suspended in water to make it give off light. The cooling occurred because the crystal glowed with slightly more energy than it received from the laser.
With such a small cooling effect, the technique is, for now, wildly inefficient, something the boffins would like to fix, because a room-temperature ordinary-condition laser chiller would be useful in computing and biosciences.
The work is due for publication in the Proceedings of the National Academy of Sciences (PNAS). ®