This article is more than 1 year old
Western Digital begins navigating the non-volatile memory maze
Stifel: All-Flash storage array market will hit $6.9bn by 2019
Comment Stifel MD Aaron Rakers has taken a deep dive look at the SanDisk technology Western Digital is aiming to buy, and his report brings out cost-savings derived from HGST escaping payment of an Intel tax, 3D NAND timescales, and possibilities for future planar NAND node shrinks.
SanDisk brings Western Digital a NAND chip supply from the SanDisk-Toshiba fab arrangement.
WD has an existing relationship between its HGST sub and Intel for the production of enterprise SAS SSDs. This arrangement is subject to renewal with each successive product introduction, a so-called evergreen deal.
It doesn't apply to consumer SAS SSDs, SATA SSDs or PCIe SSDs, meaning HGST/SanDisk is free to use SanDisk tech outside the enterprise SAS SSD product space and, if it wishes, that Intel deal could lapse after the next product renewal.
Rakers points out that "the write attributes of shingled magnetic recording (SMR) technologies requires the usage of non-volatile persistent memory (NAND) in order to optimise write performance (e.g., transition tables)."
HGST's 10TB HelioSeal disk drives use SMR and, if Rakers is right, will need to be hybrid flash/disk drives with flash being used for SMR block rewrite operations. SanDisk can supply the flash chips for this.
Unexpectedly, there could be another 2D planar NAND node shrink to below 15nm. Rakers writes: "We believe that SanDisk continues to prepare for the possibility of another planar node shrink (i.e. to 10/12nm); whether the company actually commences a subsequent planar node shrink depends on the cost effectiveness ramp of SanDisk's 3D NAND ... demand for various types of NAND in different use cases, and the difference in investment required to continue to produce 15nm TLC, convert to 3D NAND, build greenfield 3D NAND or further shrink planar."
It's a complicated financial equation. Rakers thinks other NAND suppliers could be planning possible NAND node shrinks as well, and has charted potential timescales: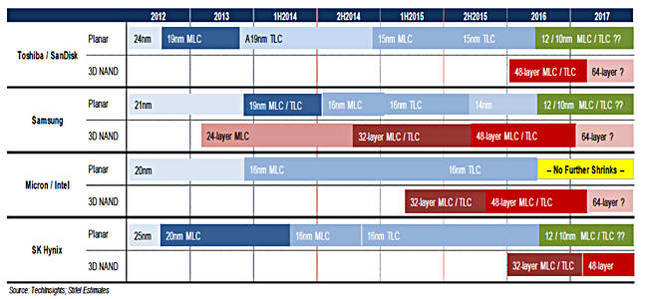 NAND Node shrink timescales. Click for larger version
Micron has no planar node shrink planned as it is going wholesale into 3D NAND. Samsung would say that limits its total addressable market as planar NAND could be more cost-effective in some areas.
HGST's Intel tax
Raker's financial modelling of WD's post-SanDisk acquisition SSD costs indicates that building products using vertically-integrated SanDisk technology for enterprise SAS SSDs could save WD substantial amounts of money.
He thinks that 80-85 per cent of the enterprise SSD bill-of-material (BOM) cost is for NAND flash. Modelling with an average 900GB SSD he reckons WD could be paying Intel as much as $0.60/GB for flash chips. It would save as much as 52 per cent of this by using SanDisk chips.
3D NAND
Is SanDisk behind in 3D NAND, where Samsung is shipping product while SanDisk is not? SanDisk said it plans to move to 3D NAND when its cost/GB is less than that of current planar NAND, providing a better return on the capital deployed to make it.
SanDisk is making 15nm planar NAND and has eight process generations of TLC experience, suggesting that chip yields from wafers are high.
Rakers writes: "We believe SanDisk (especially under WD's management) will aim to maximise the return on invested capital in both SanDisk's existing 15nm planar productive base as well as optimise additional investments in not only 3D but also additional 15nm, and potentially a further shrink to 10/12nm planar."
Industry 3D NAND production timing:
Samsung 24-layer 128Gb 3D NAND production started in second half of 2013
Samsung has just started shipping 48-layer 3D NAND chips, according to Kaminario
Intel/Micron announced 32-layer 256Gb MLC 3D NAND in mid-2015
Hynix will start 36-layer 3D NAND production in late-2015
Hynix will mass produce 48-layer 3D flash in 2016
SanDisk/Toshiba said it would start 48-layer 256Gb 3D NAND, including TLC, ships in September and ramp to volume in 2016