Review Wileyfox is the first new British phone brand in over a decade, and it's hoping to cash in on the Shenzhen economic miracle.
Not so long ago, cheap Android phones were synonymous with "Landfill". There was usually something lacking. But rapid advances in component manufacturing and packaging have seen companies enter the market offering extraordinary value for money. The upstarts offer near high spec devices for a fraction of the cost of a top brand flagship, benefiting from huge economies of scale gained by selling into India and China, and some novel (for hardware) low or zero margin business models. These are dubbed "flagship killers" or "super midrange" devices. So if Chinese startups can do it, why can't we?
That was clearly the thinking of the founders of Wileyfox. Their first two Wileyfox phones are unmistakably "Shenzhen" sourced, or at least inspired. You could be forgiven for thinking this is an offshoot of Xiaomi, Miuzu or OnePlus.
But it's a British point of contact. "Need a hand?", the company asks. Dial our 020 number. It's open six days a week. And the company will offer smashed screen replacement for an extra tenner.
The second Wileyfox device to roll off the production line is the Storm, a sturdy £199 phone running the CynaogenMod variant of Android. Your £199 buys you a dual SIM 5.5-inch display phone (1080x1920, c.400ppi), with 32GB/3GB on board, and an unexpectedly good 20MP Sony Exmoor sensor as a main shooter.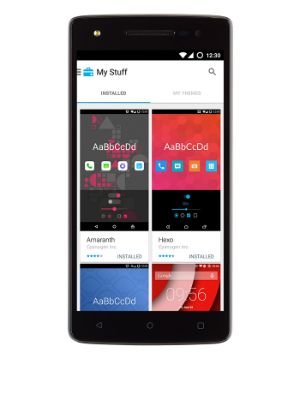 Looks like a Shenzhen cheapie, acts like a ... what's that? Smashed screen replacement for 10 quid?
The device runs a midrange Qualcomm Snapdragon 615 octocore, the SoC found in the Storm's nearest big-brand rival, the Sony Xperia M4 Aqua, as well as the pricier Moto X Play. Yet the Storm can shoot slow motion (or slow-ish) motion video at 90fps, something not found very much in phones this cheap.
This makes it the best value Android at its £200 price. In August, Motorola launched a new, and very respectable G for £200, and the Wiley Fox Storm gives you considerably more.
There's 32GB compared to 16GB of storage, 3GB instead of 2GB of RAM, and a better camera. While Lenovo-owned Motorola is bringing down its prices, at this price point it's struggling to keep pace with the nimble upstarts. What the G will offer is fast charging, and personalisations via the Moto Maker store.
Not that you'd call the Storm petite. It's a very solid, slab like 'droid, with none of the artisanal, hand-made-for-a-month trappings of the pretentious new One Plus X, which also starts at £199. The edges are unfashionably thick, there's no flex to the Storm at all. Or even a homeopathic trace of flex. You'll know when you've got 159g of Wiley Fox Storm in your pocket.
Wileyfox describes the back as "Sandstone", and it looks like OnePlus's gritty-textured sandstone in photos. But it feels nothing like it; it's a subtly "rubberised plastic", and promises to be durable. Notch up another triumph for the materials boffins. The only other distinctive feature is an LED home button, purple in normal use, although you can tweak it to change colour for missed calls and pending voicemails. Given how easy it is to pick up a phone without a home button the wrong way up, this was appreciated.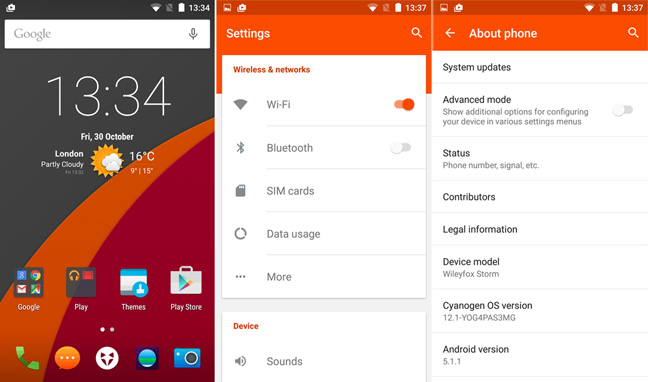 And there isn't really anything wrong with it. The buttons are oddly quite high up the phone on the right side, making it a stretch even for large hands. Unlike the cheaper Swift, the Storm's battery is non-removable. And the 2500mAh battery won't get you more than a day, and was exhausted before that when things got really busy. I liked the sturdy hefty design, the bold display, and the distinctive CyanogenMod UI, but not the launcher.
Hats off to the manufacturer for daring to take a risk here. CM is not going to be unfamiliar to Android users, as it's faithful to the Android design principles, and inevitably comes with the home screen Google insists upon.
But CM offers a fair bit more customisation, and I highly rate the Camera app, where you swipe vertically to change modes. The photos themselves were fine, although focusing seemed a little drunk at times (but not so giddy it was a nuisance), while HDR processing eats up a few seconds.

Auto (left), HDR mode (right)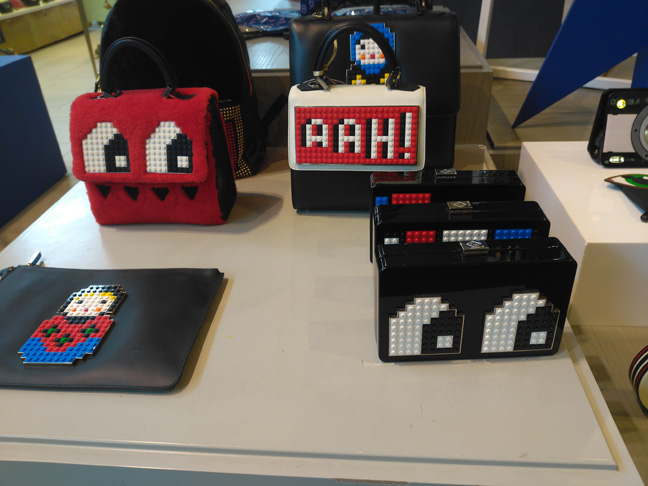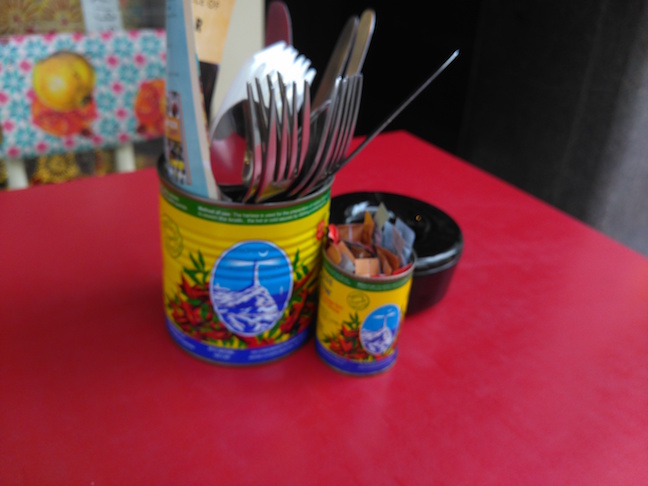 The third attempt to capture this outdoor table, with the focus getting confused each time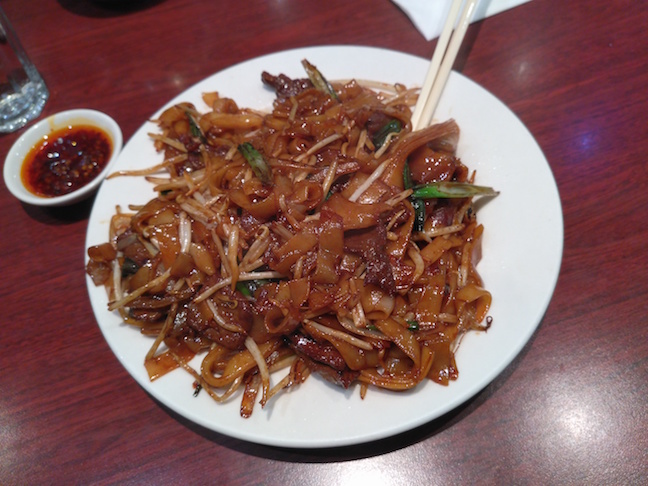 A phone to diet for?
There are no surprises here - but this is not aimed at punters who queue all day merely to paw at an unreleased phone.
It takes plenty of gumption to go head to head with giants like Lenovo and Sony, but if Wileyfox can take the Shenzhen manufacturing phenomenon and put a British face on it, the future is going to be interesting. ®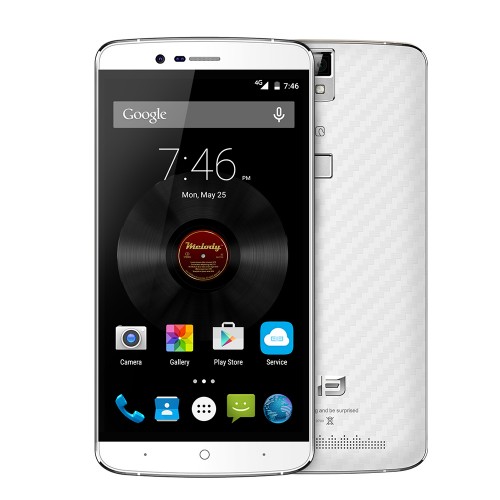 The pachyderm punch
Read El Reg's review here
of Elephone's super-budget phablet with an octa-core MediaTek SoC, 3GB of RAM, 4,165mAh battery, two 4G SIM slots, fingerprint scanner, 5.5-inch 1920 x 1080 display, 13 and 5MP cameras and 16GB of storage.
Price: £109 RRP
More Info:
Elephone's P8000 page
.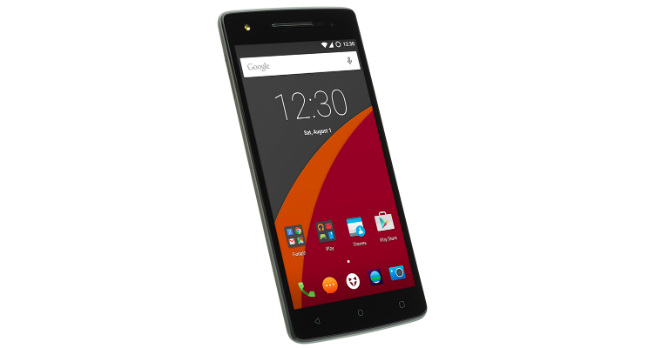 A British slice of Shenzhen Generic

Durable dual SIM bargain offering unbeatable value at the £199 price. Snapdragon 615 octocore processor, 5.5-inch 1920 x 1080 display, 32GB of storage, 3GB of RAM, non-removable 2500mAh battery, 20MP and 8MP cameras, with selfie LED flash.
Price: £199 RRP
More info: Wileyfox