Shares tumble at flash-disk array maker Nimble: Time to crack open the all-flash?
Larger enterprise sales fall flat
---
It's been a dire third quarter for Nimble, whose latest results fell short of market expectations. Shares dropped by a hefty 31 per cent to $14.15 as the news was absorbed by investors. Despite year-on-year growth was still positive.
Compared with the year-ago Q3's $59.1m, this year's equivalent showed a 36.5 per cent uplift. Pretty darn good in general, but not by Nimble's standards; it had expected to make around $87m this quarter, which would have been growth of 47.2 per cent.
There was a net loss of $28.6m – better than the prior quarter's hit of $30.1m, and roughly the same as the year-ago quarter's $28.4m.
What had management to say for itself? Basically it fouled up in larger enterprises and took its eye off the mid-sized enterprise ball.
"Our [recent] results fell short of our expectations for two reasons. First, we believe ... our enterprise investments are taking longer to become fully productive," said CEO Suresh Vasudevan. "Second, we believe the shift in investment from commercial to enterprise business impacted our commercial revenue growth more than we anticipated."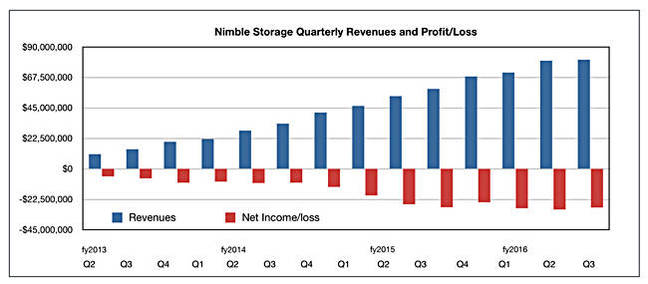 Nimble's quarterly results to Q3 full year 2016. Click chart to embiggen.
Basically it didn't sell enough kit to large enterprises, and mid-sized enterprise customers didn't make up the shortfall.
Vasudevan described Nimble's strategy: "We have been executing a strategy of augmenting our customer base of mid-sized enterprises by focusing on expanding our presence in the large enterprise segment, while simultaneously aiming to achieve non-GAAP, break-even operating income in Q4FY16."
That "non-GAAP, break-even" operating income target probably got extended out into fiscal 2017.
He strongly believes the enterprise market is adopting flash-centric architectures, and we note Nimble does not yet have an all-flash array in its product line (though there is one in the pipeline), unlike competitors such as Tegile. The recent addition of Fibre Channel connectivity has not paid off as much as Nimble hoped either.
It could be that trying to penetrate mainstream storage incumbent's large enterprise customer bases with a hot hybrid box isn't enough; it needs a hot all-flash box, and it doesn't have one. Even then the incumbents have all got pretty good all-Flash arrays, and the low-hanging fruit days may be over.
The company added 617 new customers in the quarter, 117 of which were Fibre Channel interface ones, of whom 95 were new to Nimble rather than existing customer conversions.
"We plan to make some key investments to drive growth that will constrain short-term profitability," said CFO Anup Singh. "We believe our planned investments will improve revenue growth as well as operating leverage over time. We expect that it will take several quarters to realise the impact of these investments and have factored that into our guidance for Q4FY16."
Oh dear, the growth decline is set to continue for several quarters more. Also, he doesn't see a quick product fix coming in the short-term.
It expects next quarter's revenue to be between $87-$90m, $88.5m at the mid-point, and that would be 25 per cent growth from a year ago – not so good. There will be a loss again. That's to be expected, but probably more than in this third quarter.
Stifel MD Aaron Rakers writes: "Nimble's F3Q16 results and F4Q16 outlook materially missed expectations; more importantly we/investors will now question the company's ability to invest its way out of what appears to be an increasingly competitive landscape."
He added there was "a slower-than-expected ramp in enterprise sales productivity (now taking up to eight quarters to full productivity ramp versus our prior 5-6 quarter estimate), driven by competitive intensity – most notably driven by incumbents, but also reflective of increased competitive meet rates versus all-Flash solutions."
There was "a shift in investments from commercial to enterprise; commercial investments not enough to offset increased competitive pressures (i.e., too little channel incentive programs, note implied iSCSI growth deceleration)."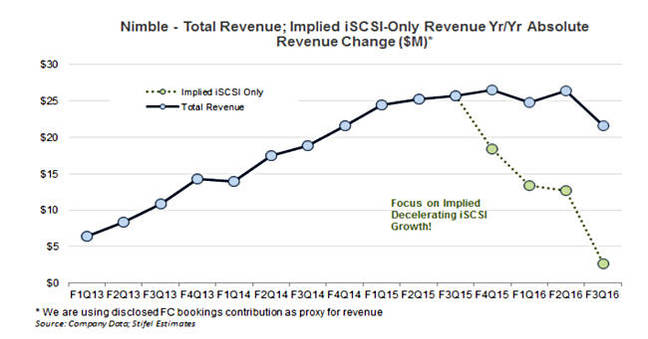 Rakers' modelling of Nimble's implied iSCSI growth rate decrease
So "Nimble is increasing sales and marketing expenses in its core commercial segment ... while sustaining its focus on enterprise investments."
Rakers questions "whether the answer to the company's abrupt change is as easy as increased investments versus what will likely become a more, rather than less, competitive landscape, pushing out profitability expectations."
It's pretty important for its business model that Nimble resumes strong annual growth. If Nimble doesn't reach its estimate for the final quarter then that will be a sign, many people will think, that it will be time to seriously re-think its prospects. ®