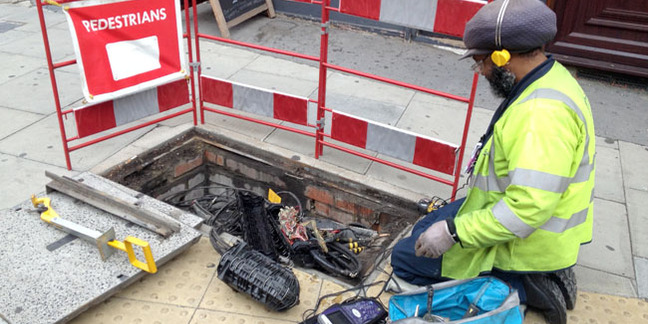 Telecoms giant BT has been rebuked by the UK's industry regulator for attributing some of the "acquisition costs" associated with its takeover of EE to all of its UK business divisions, including Openreach.
Ofcom said it was "inappropriate" for two charges, totalling £1.7 million, to be attributed to "all UK lines of business".
BT announced in February that it had agreed a £12.5 billion takeover of mobile network operator EE. That deal was the subject of an in-depth competition investigation by the UK's Competition and Markets Authority (CMA), however late last month the CMA gave its provisional backing for the companies to complete the deal. The regulator said it was its view that the acquisition would be unlikely to lead to a substantial lessening of competition in telecoms markets. The CMA's final decision is not due until 18 January next year.
In a new consultation paper (82-page / 1.08MB PDF) in which Ofcom is seeking stakeholder views on proposed charge controls for leased lines services in the business connectivity market, the regulator said that BT "must not attribute costs in connection with BT Group's acquisition of EE to business connectivity services".
"BT's statutory financial statements show that amongst the various 'specific items' that affected BT's operating costs and net finance expenses in 2014/15 was a £26m charge for EE acquisition costs," the consultation paper said. "BT provided a breakdown of the allocation of these costs to business connectivity services together with an explanation for the allocation. In 2014/15 £1.3m was allocated to Ethernet and £0.4m to TI services."
"We consider that BT's EE acquisition costs are incurred as a result of the activities associated with the acquisition of EE. However, BT attributes these costs across all UK lines of business, including, for example, Openreach and BT Wholesale to which we do not consider these costs relate. We do not consider that this is consistent with the regulatory accounting principle of causality and therefore we consider this attribution inappropriate," it said.
Openreach is BT's network infrastructure division. It provides services to BT as well as other telecoms operators in the market. Ofcom said in July that it is considering requiring BT to sell off Openreach as part of its ten-year strategic review of digital communications in the UK. A number of BT's rivals have been lobbying Ofcom to do so.
Ofcom's review is aimed at ensuring telecoms companies have the incentive to invest in their infrastructure and to innovate. Ofcom is also using the review process to develop its future competition policy and consider whether there are any opportunities for deregulation.

Copyright © 2015, Out-Law.com
Out-Law.com is part of international law firm Pinsent Masons.
Sponsored: Webcast: Discover and secure all of your attack surface