This article is more than 1 year old
Randall Munroe spoke to The Reg again. We're habit-forming that way
Web comic author talks procrastination, illustration and the Thing Explainer
In just over a decade Randall Munroe has become firmly established and it's safe to say adored as the author of xkcd.
Since starting in LiveJournal and moving to xkcd.com on 1 January 2006, Munroe has published over 1,600 webcomics which continue to amuse and enthuse netizens.
His stick-driven dioramas offer glib observations on every topic from mathematics and metaphysics to relationships and happiness.
Now, once again, in a move seemingly at odds with the web community, Munroe has produced a book – yes: a piece of analogue, physical, old-school technology.
And the Thing Explainer, released on 24 November, isn't just any book.
It's a beautifully produced hardback packed with 61 pages of facts, figures and richly and simply presented white-and-blue diagrams. If ever there existed a book of blueprint and pencil notes, Thing Explainer would be it.
Talking to The Reg, Munroe explained the idea of the Thing Explainer book grew out of the cartoon #1133, Up Goer-Five playing on the idea that a concept, if thoroughly understood, should not require an advanced vocabulary to be explained.
Published in November 2012, Up Goer-Five was a blueprint of NASA's Saturn V rocket, which had been used in the Apollo programmes, with its components "explained using only the ten hundred words people use the most often".
"I was really hoping to do more of those comics every now and then," Munroe said. "I thought you could do a lot of different stuff like that, and then the publishing experience of doing What If? was a lot of fun, it turned out really well."
The things Munroe drew and explained range from microwaves food-heating radio boxes, bridges very tall roads, and data centres computer buildings. Having previously worked as a roboticist for NASA, many of these did not require consultation when composing.
"There are some areas I understood, like when I'm drawing the Mars Curiosity Rover [red world space car], or the nuclear reactor [heavy metal power building], most of that was my own research."
"I don't have as much a biology background, as math or physics - and with the animal cell [tiny bags of water you're made of] I did speak to an expert. With the International Space Station, there are lots of walk-throughs and 3D maps you can look at, and Chris Hadfield talked to me. He'd look at the drawing and say 'the bathroom isn't there' [laughs]."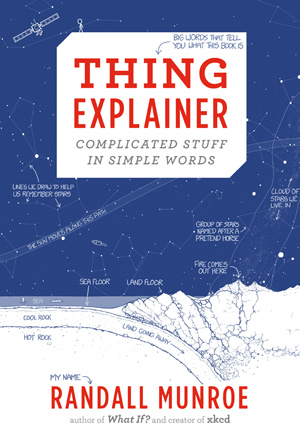 Forty-five "things" are explained in the book's large, detailed, and attractive drawings, including nuclear bombs machines for burning cities, helicopters sky boats with turning wings, and organs in the human torso bags of stuff inside you.
Were there other things Munroe would have liked to have explained? "If I had explained anything more it would have destroyed me," Munroe told The Reg.
"I really put quite a lot into this," he added. "Each page was totally different. It was a research project and a learning process for me."
How did this – the book, the comic strip - come into being? Munroe admits to not actually having grown up drawing comics.
"I did draw a lot of diagrams for inventions, and schematics, and when you do physics you end up drawing on a board a lot. I think it should be a requirement to draw a cube, in 3D, on a board. I had a professor who would draw these weird pyramid cubes," he said.
"Thing Explainer was the kind of drawing I'm used to," said Munroe, before admitting he was by now "used to drawing for the web and the resolution of print is so much higher. I kept wanting to add more stick figures," Munroe said, reminiscing about the exciting murals of the Where's Wally? illustrations "You call him Wally, for some reason he's called Waldo in the America."